{"id":6776259444781,"title":"Sideline Infinity 3 Sided 60\" WiFi Enabled Smart Recessed Electric Fireplace 80046 (Alexa\/Google Compatible)","handle":"sideline-infinity-3-sided-60-wifi-enabled-recessed-electric-fireplace-80046-alexa-google-compatible","description":"\u003ch4\u003eOverview\u003c\/h4\u003e\n\u003ch3\u003eProduct Highlights\u003c\/h3\u003e\n\u003cul\u003e\n\u003cli\u003e3-sided fireplace with see-through glass on the front and sides\u003c\/li\u003e\n\u003cli\u003e60-inch model\u003c\/li\u003e\n\u003cli\u003e4 installation options: three glass sides, left side visible, right side visible or front only visible\u003c\/li\u003e\n\u003cli\u003e2 heat settings: low and high (750W\/1500W), with thermometer (68-88°F) or constant on\u003c\/li\u003e\n\u003cli\u003e6 flame color options and 10 media bed color options\u003c\/li\u003e\n\u003cli\u003e5 flame and media bed light intensity settings\u003c\/li\u003e\n\u003cli\u003e3 flame speeds and timer up to 8 hours\u003c\/li\u003e\n\u003cli\u003eCan be plugged in or hardwired\u003c\/li\u003e\n\u003cli\u003eWi-Fi enabled, Smartphone compatibility\u003c\/li\u003e\n\u003cli\u003eTurn on or off by using Amazon Alexa or Google Home\u003c\/li\u003e\n\u003cli\u003eIncludes log set, clear and black crystals\u003c\/li\u003e\n\u003cli\u003eTouchscreen and remote control\u003c\/li\u003e\n\u003c\/ul\u003e\n\u003cbr\u003e\n\u003ch3\u003eOverview\u003c\/h3\u003e\n\u003cp\u003eEnjoy the elegant flames from every angle. The 60-inch wide Touchstone Sideline® Infinity 3-Sided Electric Fireplace offers a beautiful, multi-dimensional flame view. This versatile multi-sided electric fireplace can be installed four ways: front and side glass visible, right side hidden, left side hidden, fully recessed with front glass only. Includes a mounting bracket for easy installation.\u003c\/p\u003e\n\u003ch3\u003eRealistic Flames\u003c\/h3\u003e\n\u003cp\u003eThe premium LED flame display provides the same relaxing ambiance and authentic look as a wood or gas burning fireplace without the mess or smell. Easily tap the touchscreen or remote control to adjust the colors and intensity of the flames and flame bed.\u003c\/p\u003e\n\u003ch3\u003e60 Color Combinations\u003c\/h3\u003e\n\u003cp\u003eSet the mood and match your style with 10 flame and 6 flame bed colors.\u003c\/p\u003e\n\u003ch3\u003eBuilt-in Heater\u003c\/h3\u003e\n\u003cp\u003eAdd cozy, supplemental heat to your room. With two heat settings plus a thermostat and 8-hour timer with auto shut off, the Sideline Infinity Fireplace quickly warms a 400 square foot area. While the heater is not designed to be the primary heat source in the room, the Sideline Infinity will take the chill off and raise the temperature by a few degrees. The heat vent is on the front of the unit.\u003c\/p\u003e\n\u003ch3\u003eYear-Round Use\u003c\/h3\u003e\n\u003cp\u003eThe dual mode flames and heat work independently so you can enjoy the calming flames, with or without heat, in any season.\u003c\/p\u003e\n\u003ch3\u003eCool to the Touch Glass\u003c\/h3\u003e\n\u003cp\u003eA safer alternative to a wood burning fire, the Sideline Infinity glass front and sides remain cool to the touch.\u003c\/p\u003e\n\u003ch3\u003eEasy, Versatile Installation\u003c\/h3\u003e\n\u003cp\u003eWith several installation options, the Sideline Infinity adds a sleek, modern fireplace style to any room. The fireplace can be plugged into an outlet or hardwired. Includes a mounting bracket.\u003c\/p\u003e\n\u003cul\u003e\n\u003cli\u003e\n\u003cstrong\u003e3 Sided View:\u003c\/strong\u003e Insert the base in the wall or frame with 2 glass sides and front in view\u003c\/li\u003e\n\u003cli\u003e\n\u003cstrong\u003e2-Sided View:\u003c\/strong\u003e Cover one side so only the front glass and left or right side are in view\u003c\/li\u003e\n\u003cli\u003e\n\u003cstrong\u003eFront View Only:\u003c\/strong\u003e Insert completely in the wall so only the front glass is in view\u003c\/li\u003e\n\u003c\/ul\u003e\n\u003cbr\u003e\n\u003ch3\u003eCustomize the Fireplace Media\u003c\/h3\u003e\n\u003cp\u003eThe Sideline Infinity includes a log set and crystals to match your style. The clear and black crystals add a modern flare while the log provides a more traditional look.\u003c\/p\u003e\n\u003ch3\u003eCeiling and TV Mounting Space\u003c\/h3\u003e\n\u003cp\u003eWe recommend placing the Sideline Infinity at least 20 inches below the ceiling or 8 inches below a wall mounted TV for a safe clearance from the fireplace heating vent.\u003c\/p\u003e\n\u003ch3\u003eEasy Operation - WiFi Enabled\u003c\/h3\u003e\n\u003cp\u003eAdjust the flames, flame bed and heat settings by touchscreen, remote control or smartphone app. The touchscreen lights dim a few seconds after adjustment. \u003ca href=\"https:\/\/www.touchstonehomeproducts.com\/pages\/sideline-elite-electric-fireplace-wifi-setup\" title=\"Smart Electric Fireplace WiFi Set Up Guide\"\u003e\u003cstrong\u003eSee the WiFi Set Up Guide for more information\u003c\/strong\u003e\u003c\/a\u003e.\u003c\/p\u003e\n\u003cp\u003eThe included remote control requires AAA batteries (not included).\u003c\/p\u003e\n\u003ch4\u003eSpecifications\u003c\/h4\u003e\n\u003ch3\u003eSpecifications\u003c\/h3\u003e\n\u003cul\u003e\n\u003cli\u003e\n\u003cstrong\u003eFrame Color:\u003cspan\u003e \u003c\/span\u003e\u003c\/strong\u003eBlack\u003c\/li\u003e\n\u003cli\u003e\n\u003cstrong\u003eFireplace Dimensions:\u003cspan\u003e \u003c\/span\u003e\u003c\/strong\u003e60" wide x 17.25" high x 8" deep\u003c\/li\u003e\n\u003cli\u003e\n\u003cstrong\u003eFirebox Dimensions:\u003c\/strong\u003e\u003cspan\u003e 60" wide x 17" high x 8" deep\u003c\/span\u003e\n\u003c\/li\u003e\n\u003cli\u003e\n\u003cstrong\u003eRough Opening Dimensions:\u003c\/strong\u003e 60.25\" wide x 17.5\" high x 8\" deep\u003c\/li\u003e\n\u003cli\u003e\n\u003cstrong\u003eShipping Carton Dimensions: \u003c\/strong\u003e65\" wide x  30\" high x 20\" deep\u003c\/li\u003e\n\u003cli\u003e\n\u003cstrong\u003eFire Dimensions:\u003c\/strong\u003e\u003cspan\u003e \u003c\/span\u003e\n\u003c\/li\u003e\n\u003cli\u003e\n\u003cstrong\u003ePart number:\u003cspan\u003e \u003c\/span\u003e\u003c\/strong\u003e80046\u003c\/li\u003e\n\u003cli\u003e\n\u003cstrong\u003eWatts:\u003cspan\u003e \u003c\/span\u003e\u003c\/strong\u003e1,500\u003c\/li\u003e\n\u003cli\u003e\n\u003cstrong\u003eBTU's:\u003cspan\u003e \u003c\/span\u003e\u003c\/strong\u003e5,118\u003c\/li\u003e\n\u003cli\u003e\n\u003cstrong\u003eRoom Coverage:\u003cspan\u003e \u003c\/span\u003e\u003c\/strong\u003e400 ft.\u003c\/li\u003e\n\u003cli\u003e\n\u003cstrong\u003eFireplace Weight:\u003cspan\u003e \u003c\/span\u003e\u003c\/strong\u003e110 pounds\u003c\/li\u003e\n\u003cli\u003e\n\u003cstrong\u003eShipping Weight:\u003cspan\u003e \u003c\/span\u003e\u003c\/strong\u003e145 pounds\u003c\/li\u003e\n\u003cli\u003e\n\u003cstrong\u003eVoltage:\u003cspan\u003e \u003c\/span\u003e\u003c\/strong\u003e110v-120v\u003c\/li\u003e\n\u003cli\u003e\n\u003cstrong\u003eAmperes:\u003cspan\u003e \u003c\/span\u003e\u003c\/strong\u003e12\u003c\/li\u003e\n\u003c\/ul\u003e\n\u003ch3\u003eDimensional Drawing\u003c\/h3\u003e\n\u003cdiv style=\"text-align: center;\"\u003e\u003cimg alt=\"\" src=\"https:\/\/cdn.shopify.com\/s\/files\/1\/1817\/4257\/files\/80046-SidelineInfinity60dimensions_c93540d6-48e7-445a-a194-db3522f5fe48_1024x1024.jpg?v=1653426758\"\u003e\u003c\/div\u003e\n\u003ch3\u003eDocuments\u003c\/h3\u003e\n\u003cul\u003e\n\u003cli\u003e\u003ca href=\"https:\/\/ftp.touchstonehomeproducts.com\/documents\/manuals\/fireplace\/WifiFireplaceSetupInstructions-SidelineInfinitySeries.pdf\" target=\"_blank\"\u003e\u003cstrong\u003e80046 - Sideline\u003cspan\u003e® Infinity\u003c\/span\u003e\u003cspan\u003e 60\u003c\/span\u003e\" Electric Fireplace Wi-Fi Setup Guide\u003c\/strong\u003e\u003c\/a\u003e\u003c\/li\u003e\n\u003cli\u003e\n\u003ca href=\"https:\/\/ftp.touchstonehomeproducts.com\/documents\/manuals\/fireplace\/sidelineinfinityseriesmanual.pdf\" target=\"_blank\"\u003e\u003cstrong\u003e80046 - Sideline\u003cspan\u003e® Infinity\u003c\/span\u003e 60\" Electric Fireplace Owners' Manual\u003c\/strong\u003e\u003c\/a\u003e\u003cbr\u003e\u003cstrong\u003e\u003c\/strong\u003e\n\u003c\/li\u003e\n\u003cli\u003e\u003ca href=\"https:\/\/ftp.touchstonehomeproducts.com\/documents\/dimensionaldrawings\/80046-SidelineInfinity60dimensions.jpg\" target=\"_blank\"\u003e\u003cstrong\u003e80046 - Sideline\u003cspan\u003e® Infinity 60\"\u003c\/span\u003e Electric Fireplace Dimensional Drawing\u003c\/strong\u003e\u003c\/a\u003e\u003c\/li\u003e\n\u003c\/ul\u003e\n\u003ch4\u003eDelivery and Shipping\u003c\/h4\u003e\n\u003ch3\u003eDelivery \u0026amp; Shipping\u003c\/h3\u003e\n\u003cp\u003eTouchstone's large Electric Fireplaces are shipped via UPS Freight lift-gate freight service. If you would like priority shipping, please call us at 800-215-1990 to request a quote.\u003cbr\u003e\u003cbr\u003eThese deliveries are handled the same way as any UPS Ground shipment, so they can be left when you are not home. Touchstone™ is responsible for the delivery only to the point that the Fireplace is dropped off, so please be aware of any possible issues with a drop off delivery if you are not home, or if the weather is an issue.\u003cbr\u003e\u003cbr\u003eTouchstone™ sends you an email with your order shipment tracking information, so you can check with the shipping carrier directly to track your shipment.\u003c\/p\u003e\n\u003ch3\u003eShopping in Canada?\u003c\/h3\u003e\n\u003cp\u003e\u003cspan\u003eFor customers shopping in Canada, \u003c\/span\u003e\u003ca href=\"https:\/\/touchstonehomeproducts.myshopify.com\/pages\/shipping-to-canada\"\u003eplease click here\u003c\/a\u003e\u003cspan\u003e for more information about delivery into Canada.\u003c\/span\u003e\u003c\/p\u003e\n\u003ch3\u003eReturn Policy\u003c\/h3\u003e\n\u003cp\u003eFor more information regarding our return policy,\u003cspan\u003e \u003c\/span\u003e\u003ca href=\"https:\/\/www.touchstonehomeproducts.com\/pages\/return-policy\" onclick=\"window.open(this.href, 'mywin', 'left=20,top=20,width=700,height=700,toolbar=0,resizable=1'); return false;\"\u003eplease click here.\u003c\/a\u003e\u003c\/p\u003e\n\u003ch4\u003eWarranty\u003c\/h4\u003e\n\u003ch3\u003eProduct Protection\u003c\/h3\u003e\n\u003cp\u003e\u003cspan class=\"aboutUsOrange\"\u003e\u003cb\u003eINCLUDED IN STANDARD 1-YEAR WARRANTY\u003cspan\u003e \u003c\/span\u003e\u003cem\u003e(INCLUDED WITH FIREPLACE PURCHASE)\u003c\/em\u003e:\u003c\/b\u003e\u003c\/span\u003e\u003c\/p\u003e\n\u003cul\u003e\n\u003cli\u003eReplacement of any non-functioning electronic parts\u003c\/li\u003e\n\u003cli\u003eFree Toll Free tech support (800-215-1990)\u003c\/li\u003e\n\u003c\/ul\u003e\n\u003cp\u003e\u003cspan class=\"aboutUsOrange\"\u003e\u003cb\u003e1-YEAR\u003cspan\u003e \u003c\/span\u003eEXTENDED WARRANTY \u003cem\u003e($99)\u003c\/em\u003e:\u003c\/b\u003e\u003c\/span\u003e\u003c\/p\u003e\n\u003cul\u003e\n\u003cli\u003e1-year extended warranty (continuation of warranty for 1 calendar year AFTER expiration of manufacturers warranty)\u003c\/li\u003e\n\u003cli\u003eReplacement of any non-functioning parts\u003c\/li\u003e\n\u003cli\u003eToll-Free Customer Service \u0026amp; Support\u003c\/li\u003e\n\u003c\/ul\u003e\n\u003cp\u003e\u003cspan class=\"aboutUsOrange\"\u003e\u003cb\u003e2-YEAR EXTENDED WARRANTY\u003cspan\u003e \u003c\/span\u003e\u003cem\u003e($159)\u003c\/em\u003e:\u003c\/b\u003e\u003c\/span\u003e\u003c\/p\u003e\n\u003cul\u003e\n\u003cli\u003e2-year extended warranty (continuation of warranty for 2 calendar years AFTER expiration of manufacturers warranty)\u003c\/li\u003e\n\u003cli\u003eReplacement of any non-functioning parts\u003c\/li\u003e\n\u003cli\u003eToll-Free Customer Service \u0026amp; Support\u003c\/li\u003e\n\u003c\/ul\u003e\n\u003ch4\u003eReviews\u003c\/h4\u003e\n\u003ch4\u003eVideo\u003c\/h4\u003e\n\u003ch3\u003eProduct Videos\u003c\/h3\u003e\n\u003cp\u003eWatch the Touchstone® Sideline Infinity 3-Sided Electric Fireplace installation from start to finish.\u003c\/p\u003e\n\u003cbr\u003e\n\u003cdiv class=\"videoWrapper\"\u003e\u003ciframe src=\"https:\/\/www.youtube.com\/embed\/8DJLvcwOn1Y\" title=\"YouTube video player\" allow=\"accelerometer; autoplay; clipboard-write; encrypted-media; gyroscope; picture-in-picture\" allowfullscreen=\"\" width=\"560\" height=\"315\" frameborder=\"0\"\u003e\u003c\/iframe\u003e\u003c\/div\u003e","published_at":"2021-09-21T15:33:30-04:00","created_at":"2021-09-21T15:06:39-04:00","vendor":"Touchstone Home Products, Inc.","type":"Electric Fireplace","tags":["Fireplace Width_60 inches","Flame Display_60 color combos","Placement_Wall insert","WiFi Enabled_Alexa \u0026 Google Home Compatible"],"price":189900,"price_min":189900,"price_max":189900,"available":true,"price_varies":false,"compare_at_price":299900,"compare_at_price_min":299900,"compare_at_price_max":299900,"compare_at_price_varies":false,"variants":[{"id":39729882136621,"title":"Default Title","option1":"Default Title","option2":null,"option3":null,"sku":"80046","requires_shipping":true,"taxable":true,"featured_image":null,"available":true,"name":"Sideline Infinity 3 Sided 60\" WiFi Enabled Smart Recessed Electric Fireplace 80046 (Alexa\/Google Compatible)","public_title":null,"options":["Default Title"],"price":189900,"weight":68039,"compare_at_price":299900,"inventory_quantity":47,"inventory_management":"shopify","inventory_policy":"continue","barcode":"631361800468","requires_selling_plan":false,"selling_plan_allocations":[]}],"images":["\/\/cdn.shopify.com\/s\/files\/1\/1817\/4257\/products\/touchstone-sideline-infinity-3-sided-electric-fireplace-orange-flames-logs.jpg?v=1652125578","\/\/cdn.shopify.com\/s\/files\/1\/1817\/4257\/products\/touchstone-sideline-infinity-3-sided-electric-fireplace-80045-80046-closeup-side-view_a53fbd5f-f628-4365-8d99-b1f821942a39.jpg?v=1652125578","\/\/cdn.shopify.com\/s\/files\/1\/1817\/4257\/products\/touchstone-sideline-infinity-logs-crystals_54e9f9c3-cef6-46ab-b7c3-b7d50b52eafd.jpg?v=1652125576","\/\/cdn.shopify.com\/s\/files\/1\/1817\/4257\/products\/touchstone-sideline-infinty-3-sided-electric-fireplace-modern-livingroom_5843d87e-6ff9-4fdf-b1c0-e127f277e4cb.jpg?v=1652125576","\/\/cdn.shopify.com\/s\/files\/1\/1817\/4257\/products\/touchstone-sideline-infinity-3-sided-electric-fireplace-in-livingroom_b6feb984-7015-4117-ac7c-d9627b208290.jpg?v=1652125576","\/\/cdn.shopify.com\/s\/files\/1\/1817\/4257\/products\/touchstone-infinity-electric-fireplace-familyrenov8-lbl_9768d729-da41-4d8b-b5ec-5e83f120bd6a.jpg?v=1652205759","\/\/cdn.shopify.com\/s\/files\/1\/1817\/4257\/products\/touchstone-sideline-infnity-80045-80046-back-view-electric-fireplace_7bc0365a-295f-44ec-b277-318ae2efd260.jpg?v=1652205642","\/\/cdn.shopify.com\/s\/files\/1\/1817\/4257\/products\/touchstone-sideline-infnity-electric-fireplace-what-in-the-box_892cfd81-bf20-40a3-b559-ba9be4fc12f9.jpg?v=1652205642","\/\/cdn.shopify.com\/s\/files\/1\/1817\/4257\/products\/touchstone-sideline-infinity-3-sided-electric-fireplace-control-panel_ba94d53a-bf4a-4d69-b884-a6b1fa189fc2.jpg?v=1652205642","\/\/cdn.shopify.com\/s\/files\/1\/1817\/4257\/products\/touchstone-sideline-infinity-80045-electric-fireplace-side-view_fc81ba43-3872-49a8-afea-9258818c12f7.jpg?v=1652205642","\/\/cdn.shopify.com\/s\/files\/1\/1817\/4257\/products\/touchstone-sideline-infinity-3-sided-fireplace-side-view-crystals.jpg?v=1652205642","\/\/cdn.shopify.com\/s\/files\/1\/1817\/4257\/products\/touchstone-sideline-infinity-size-options_b5fee4ff-0cab-48fa-a5a1-0bf942b5c705.jpg?v=1652205756"],"featured_image":"\/\/cdn.shopify.com\/s\/files\/1\/1817\/4257\/products\/touchstone-sideline-infinity-3-sided-electric-fireplace-orange-flames-logs.jpg?v=1652125578","options":["Title"],"media":[{"alt":null,"id":21239598579757,"position":1,"preview_image":{"aspect_ratio":1.333,"height":768,"width":1024,"src":"https:\/\/cdn.shopify.com\/s\/files\/1\/1817\/4257\/products\/touchstone-sideline-infinity-3-sided-electric-fireplace-orange-flames-logs.jpg?v=1652125578"},"aspect_ratio":1.333,"height":768,"media_type":"image","src":"https:\/\/cdn.shopify.com\/s\/files\/1\/1817\/4257\/products\/touchstone-sideline-infinity-3-sided-electric-fireplace-orange-flames-logs.jpg?v=1652125578","width":1024},{"alt":null,"id":21264423321645,"position":2,"preview_image":{"aspect_ratio":1.333,"height":360,"width":480,"src":"https:\/\/cdn.shopify.com\/s\/files\/1\/1817\/4257\/products\/hqdefault_02b9a131-5c63-4189-9266-1996004de4ef.jpg?v=1633022903"},"aspect_ratio":1.77,"external_id":"8DJLvcwOn1Y","host":"youtube","media_type":"external_video"},{"alt":"Closeup of Touchstone Sideline Infinity 3 Sided Electric Fireplace with crystals","id":21236246937645,"position":3,"preview_image":{"aspect_ratio":1.333,"height":768,"width":1024,"src":"https:\/\/cdn.shopify.com\/s\/files\/1\/1817\/4257\/products\/touchstone-sideline-infinity-3-sided-electric-fireplace-80045-80046-closeup-side-view_a53fbd5f-f628-4365-8d99-b1f821942a39.jpg?v=1652125578"},"aspect_ratio":1.333,"height":768,"media_type":"image","src":"https:\/\/cdn.shopify.com\/s\/files\/1\/1817\/4257\/products\/touchstone-sideline-infinity-3-sided-electric-fireplace-80045-80046-closeup-side-view_a53fbd5f-f628-4365-8d99-b1f821942a39.jpg?v=1652125578","width":1024},{"alt":"Touchstone Sideline Infinity 3 sided electric fireplace includes log set and crystals","id":21236246970413,"position":4,"preview_image":{"aspect_ratio":1.333,"height":768,"width":1024,"src":"https:\/\/cdn.shopify.com\/s\/files\/1\/1817\/4257\/products\/touchstone-sideline-infinity-logs-crystals_54e9f9c3-cef6-46ab-b7c3-b7d50b52eafd.jpg?v=1652125576"},"aspect_ratio":1.333,"height":768,"media_type":"image","src":"https:\/\/cdn.shopify.com\/s\/files\/1\/1817\/4257\/products\/touchstone-sideline-infinity-logs-crystals_54e9f9c3-cef6-46ab-b7c3-b7d50b52eafd.jpg?v=1652125576","width":1024},{"alt":"Touchstone Sideline Infinity 3 sided electric fireplace in a modern living room front view","id":21236246872109,"position":5,"preview_image":{"aspect_ratio":1.333,"height":768,"width":1024,"src":"https:\/\/cdn.shopify.com\/s\/files\/1\/1817\/4257\/products\/touchstone-sideline-infinty-3-sided-electric-fireplace-modern-livingroom_5843d87e-6ff9-4fdf-b1c0-e127f277e4cb.jpg?v=1652125576"},"aspect_ratio":1.333,"height":768,"media_type":"image","src":"https:\/\/cdn.shopify.com\/s\/files\/1\/1817\/4257\/products\/touchstone-sideline-infinty-3-sided-electric-fireplace-modern-livingroom_5843d87e-6ff9-4fdf-b1c0-e127f277e4cb.jpg?v=1652125576","width":1024},{"alt":"Touchstone Sideline Infinity 3 sided electric fireplace in a white bump out wall side view","id":21236246904877,"position":6,"preview_image":{"aspect_ratio":1.333,"height":768,"width":1024,"src":"https:\/\/cdn.shopify.com\/s\/files\/1\/1817\/4257\/products\/touchstone-sideline-infinity-3-sided-electric-fireplace-in-livingroom_b6feb984-7015-4117-ac7c-d9627b208290.jpg?v=1652125576"},"aspect_ratio":1.333,"height":768,"media_type":"image","src":"https:\/\/cdn.shopify.com\/s\/files\/1\/1817\/4257\/products\/touchstone-sideline-infinity-3-sided-electric-fireplace-in-livingroom_b6feb984-7015-4117-ac7c-d9627b208290.jpg?v=1652125576","width":1024},{"alt":"Touchstone Infinity three sided electric fireplace in dark gray wall with TV mounted above","id":22316995608621,"position":7,"preview_image":{"aspect_ratio":1.0,"height":600,"width":600,"src":"https:\/\/cdn.shopify.com\/s\/files\/1\/1817\/4257\/products\/touchstone-infinity-electric-fireplace-familyrenov8-lbl_9768d729-da41-4d8b-b5ec-5e83f120bd6a.jpg?v=1652205759"},"aspect_ratio":1.0,"height":600,"media_type":"image","src":"https:\/\/cdn.shopify.com\/s\/files\/1\/1817\/4257\/products\/touchstone-infinity-electric-fireplace-familyrenov8-lbl_9768d729-da41-4d8b-b5ec-5e83f120bd6a.jpg?v=1652205759","width":600},{"alt":"Back view of the Touchstone Sideline Infinity 3 Sided Electric Fireplaces showing electrical connection. Can be hardwired or plugged in.","id":21236247003181,"position":8,"preview_image":{"aspect_ratio":1.333,"height":768,"width":1024,"src":"https:\/\/cdn.shopify.com\/s\/files\/1\/1817\/4257\/products\/touchstone-sideline-infnity-80045-80046-back-view-electric-fireplace_7bc0365a-295f-44ec-b277-318ae2efd260.jpg?v=1652205642"},"aspect_ratio":1.333,"height":768,"media_type":"image","src":"https:\/\/cdn.shopify.com\/s\/files\/1\/1817\/4257\/products\/touchstone-sideline-infnity-80045-80046-back-view-electric-fireplace_7bc0365a-295f-44ec-b277-318ae2efd260.jpg?v=1652205642","width":1024},{"alt":"The Touchstone Sideline Infinity ships with a log set, crystals, hardware, remote control and mounting bracket.","id":21236247035949,"position":9,"preview_image":{"aspect_ratio":1.333,"height":768,"width":1024,"src":"https:\/\/cdn.shopify.com\/s\/files\/1\/1817\/4257\/products\/touchstone-sideline-infnity-electric-fireplace-what-in-the-box_892cfd81-bf20-40a3-b559-ba9be4fc12f9.jpg?v=1652205642"},"aspect_ratio":1.333,"height":768,"media_type":"image","src":"https:\/\/cdn.shopify.com\/s\/files\/1\/1817\/4257\/products\/touchstone-sideline-infnity-electric-fireplace-what-in-the-box_892cfd81-bf20-40a3-b559-ba9be4fc12f9.jpg?v=1652205642","width":1024},{"alt":"Closeup of the heating vent and touchscreen control panel of the Touchstone Sideline Infinity Electric Fireplace","id":21236247068717,"position":10,"preview_image":{"aspect_ratio":1.333,"height":768,"width":1024,"src":"https:\/\/cdn.shopify.com\/s\/files\/1\/1817\/4257\/products\/touchstone-sideline-infinity-3-sided-electric-fireplace-control-panel_ba94d53a-bf4a-4d69-b884-a6b1fa189fc2.jpg?v=1652205642"},"aspect_ratio":1.333,"height":768,"media_type":"image","src":"https:\/\/cdn.shopify.com\/s\/files\/1\/1817\/4257\/products\/touchstone-sideline-infinity-3-sided-electric-fireplace-control-panel_ba94d53a-bf4a-4d69-b884-a6b1fa189fc2.jpg?v=1652205642","width":1024},{"alt":"Touchstone Sideline Infinity 80045 3 Sided Electric Fireplace","id":21236246839341,"position":11,"preview_image":{"aspect_ratio":1.4,"height":500,"width":700,"src":"https:\/\/cdn.shopify.com\/s\/files\/1\/1817\/4257\/products\/touchstone-sideline-infinity-80045-electric-fireplace-side-view_fc81ba43-3872-49a8-afea-9258818c12f7.jpg?v=1652205642"},"aspect_ratio":1.4,"height":500,"media_type":"image","src":"https:\/\/cdn.shopify.com\/s\/files\/1\/1817\/4257\/products\/touchstone-sideline-infinity-80045-electric-fireplace-side-view_fc81ba43-3872-49a8-afea-9258818c12f7.jpg?v=1652205642","width":700},{"alt":null,"id":21239569842221,"position":12,"preview_image":{"aspect_ratio":1.333,"height":768,"width":1024,"src":"https:\/\/cdn.shopify.com\/s\/files\/1\/1817\/4257\/products\/touchstone-sideline-infinity-3-sided-fireplace-side-view-crystals.jpg?v=1652205642"},"aspect_ratio":1.333,"height":768,"media_type":"image","src":"https:\/\/cdn.shopify.com\/s\/files\/1\/1817\/4257\/products\/touchstone-sideline-infinity-3-sided-fireplace-side-view-crystals.jpg?v=1652205642","width":1024},{"alt":"Sideline Infinity available in three widths","id":22316998426669,"position":13,"preview_image":{"aspect_ratio":1.0,"height":2000,"width":2000,"src":"https:\/\/cdn.shopify.com\/s\/files\/1\/1817\/4257\/products\/touchstone-sideline-infinity-size-options_b5fee4ff-0cab-48fa-a5a1-0bf942b5c705.jpg?v=1652205756"},"aspect_ratio":1.0,"height":2000,"media_type":"image","src":"https:\/\/cdn.shopify.com\/s\/files\/1\/1817\/4257\/products\/touchstone-sideline-infinity-size-options_b5fee4ff-0cab-48fa-a5a1-0bf942b5c705.jpg?v=1652205756","width":2000}],"requires_selling_plan":false,"selling_plan_groups":[],"content":"\u003ch4\u003eOverview\u003c\/h4\u003e\n\u003ch3\u003eProduct Highlights\u003c\/h3\u003e\n\u003cul\u003e\n\u003cli\u003e3-sided fireplace with see-through glass on the front and sides\u003c\/li\u003e\n\u003cli\u003e60-inch model\u003c\/li\u003e\n\u003cli\u003e4 installation options: three glass sides, left side visible, right side visible or front only visible\u003c\/li\u003e\n\u003cli\u003e2 heat settings: low and high (750W\/1500W), with thermometer (68-88°F) or constant on\u003c\/li\u003e\n\u003cli\u003e6 flame color options and 10 media bed color options\u003c\/li\u003e\n\u003cli\u003e5 flame and media bed light intensity settings\u003c\/li\u003e\n\u003cli\u003e3 flame speeds and timer up to 8 hours\u003c\/li\u003e\n\u003cli\u003eCan be plugged in or hardwired\u003c\/li\u003e\n\u003cli\u003eWi-Fi enabled, Smartphone compatibility\u003c\/li\u003e\n\u003cli\u003eTurn on or off by using Amazon Alexa or Google Home\u003c\/li\u003e\n\u003cli\u003eIncludes log set, clear and black crystals\u003c\/li\u003e\n\u003cli\u003eTouchscreen and remote control\u003c\/li\u003e\n\u003c\/ul\u003e\n\u003cbr\u003e\n\u003ch3\u003eOverview\u003c\/h3\u003e\n\u003cp\u003eEnjoy the elegant flames from every angle. The 60-inch wide Touchstone Sideline® Infinity 3-Sided Electric Fireplace offers a beautiful, multi-dimensional flame view. This versatile multi-sided electric fireplace can be installed four ways: front and side glass visible, right side hidden, left side hidden, fully recessed with front glass only. Includes a mounting bracket for easy installation.\u003c\/p\u003e\n\u003ch3\u003eRealistic Flames\u003c\/h3\u003e\n\u003cp\u003eThe premium LED flame display provides the same relaxing ambiance and authentic look as a wood or gas burning fireplace without the mess or smell. Easily tap the touchscreen or remote control to adjust the colors and intensity of the flames and flame bed.\u003c\/p\u003e\n\u003ch3\u003e60 Color Combinations\u003c\/h3\u003e\n\u003cp\u003eSet the mood and match your style with 10 flame and 6 flame bed colors.\u003c\/p\u003e\n\u003ch3\u003eBuilt-in Heater\u003c\/h3\u003e\n\u003cp\u003eAdd cozy, supplemental heat to your room. With two heat settings plus a thermostat and 8-hour timer with auto shut off, the Sideline Infinity Fireplace quickly warms a 400 square foot area. While the heater is not designed to be the primary heat source in the room, the Sideline Infinity will take the chill off and raise the temperature by a few degrees. The heat vent is on the front of the unit.\u003c\/p\u003e\n\u003ch3\u003eYear-Round Use\u003c\/h3\u003e\n\u003cp\u003eThe dual mode flames and heat work independently so you can enjoy the calming flames, with or without heat, in any season.\u003c\/p\u003e\n\u003ch3\u003eCool to the Touch Glass\u003c\/h3\u003e\n\u003cp\u003eA safer alternative to a wood burning fire, the Sideline Infinity glass front and sides remain cool to the touch.\u003c\/p\u003e\n\u003ch3\u003eEasy, Versatile Installation\u003c\/h3\u003e\n\u003cp\u003eWith several installation options, the Sideline Infinity adds a sleek, modern fireplace style to any room. The fireplace can be plugged into an outlet or hardwired. Includes a mounting bracket.\u003c\/p\u003e\n\u003cul\u003e\n\u003cli\u003e\n\u003cstrong\u003e3 Sided View:\u003c\/strong\u003e Insert the base in the wall or frame with 2 glass sides and front in view\u003c\/li\u003e\n\u003cli\u003e\n\u003cstrong\u003e2-Sided View:\u003c\/strong\u003e Cover one side so only the front glass and left or right side are in view\u003c\/li\u003e\n\u003cli\u003e\n\u003cstrong\u003eFront View Only:\u003c\/strong\u003e Insert completely in the wall so only the front glass is in view\u003c\/li\u003e\n\u003c\/ul\u003e\n\u003cbr\u003e\n\u003ch3\u003eCustomize the Fireplace Media\u003c\/h3\u003e\n\u003cp\u003eThe Sideline Infinity includes a log set and crystals to match your style. The clear and black crystals add a modern flare while the log provides a more traditional look.\u003c\/p\u003e\n\u003ch3\u003eCeiling and TV Mounting Space\u003c\/h3\u003e\n\u003cp\u003eWe recommend placing the Sideline Infinity at least 20 inches below the ceiling or 8 inches below a wall mounted TV for a safe clearance from the fireplace heating vent.\u003c\/p\u003e\n\u003ch3\u003eEasy Operation - WiFi Enabled\u003c\/h3\u003e\n\u003cp\u003eAdjust the flames, flame bed and heat settings by touchscreen, remote control or smartphone app. The touchscreen lights dim a few seconds after adjustment. \u003ca href=\"https:\/\/www.touchstonehomeproducts.com\/pages\/sideline-elite-electric-fireplace-wifi-setup\" title=\"Smart Electric Fireplace WiFi Set Up Guide\"\u003e\u003cstrong\u003eSee the WiFi Set Up Guide for more information\u003c\/strong\u003e\u003c\/a\u003e.\u003c\/p\u003e\n\u003cp\u003eThe included remote control requires AAA batteries (not included).\u003c\/p\u003e\n\u003ch4\u003eSpecifications\u003c\/h4\u003e\n\u003ch3\u003eSpecifications\u003c\/h3\u003e\n\u003cul\u003e\n\u003cli\u003e\n\u003cstrong\u003eFrame Color:\u003cspan\u003e \u003c\/span\u003e\u003c\/strong\u003eBlack\u003c\/li\u003e\n\u003cli\u003e\n\u003cstrong\u003eFireplace Dimensions:\u003cspan\u003e \u003c\/span\u003e\u003c\/strong\u003e60" wide x 17.25" high x 8" deep\u003c\/li\u003e\n\u003cli\u003e\n\u003cstrong\u003eFirebox Dimensions:\u003c\/strong\u003e\u003cspan\u003e 60" wide x 17" high x 8" deep\u003c\/span\u003e\n\u003c\/li\u003e\n\u003cli\u003e\n\u003cstrong\u003eRough Opening Dimensions:\u003c\/strong\u003e 60.25\" wide x 17.5\" high x 8\" deep\u003c\/li\u003e\n\u003cli\u003e\n\u003cstrong\u003eShipping Carton Dimensions: \u003c\/strong\u003e65\" wide x  30\" high x 20\" deep\u003c\/li\u003e\n\u003cli\u003e\n\u003cstrong\u003eFire Dimensions:\u003c\/strong\u003e\u003cspan\u003e \u003c\/span\u003e\n\u003c\/li\u003e\n\u003cli\u003e\n\u003cstrong\u003ePart number:\u003cspan\u003e \u003c\/span\u003e\u003c\/strong\u003e80046\u003c\/li\u003e\n\u003cli\u003e\n\u003cstrong\u003eWatts:\u003cspan\u003e \u003c\/span\u003e\u003c\/strong\u003e1,500\u003c\/li\u003e\n\u003cli\u003e\n\u003cstrong\u003eBTU's:\u003cspan\u003e \u003c\/span\u003e\u003c\/strong\u003e5,118\u003c\/li\u003e\n\u003cli\u003e\n\u003cstrong\u003eRoom Coverage:\u003cspan\u003e \u003c\/span\u003e\u003c\/strong\u003e400 ft.\u003c\/li\u003e\n\u003cli\u003e\n\u003cstrong\u003eFireplace Weight:\u003cspan\u003e \u003c\/span\u003e\u003c\/strong\u003e110 pounds\u003c\/li\u003e\n\u003cli\u003e\n\u003cstrong\u003eShipping Weight:\u003cspan\u003e \u003c\/span\u003e\u003c\/strong\u003e145 pounds\u003c\/li\u003e\n\u003cli\u003e\n\u003cstrong\u003eVoltage:\u003cspan\u003e \u003c\/span\u003e\u003c\/strong\u003e110v-120v\u003c\/li\u003e\n\u003cli\u003e\n\u003cstrong\u003eAmperes:\u003cspan\u003e \u003c\/span\u003e\u003c\/strong\u003e12\u003c\/li\u003e\n\u003c\/ul\u003e\n\u003ch3\u003eDimensional Drawing\u003c\/h3\u003e\n\u003cdiv style=\"text-align: center;\"\u003e\u003cimg alt=\"\" src=\"https:\/\/cdn.shopify.com\/s\/files\/1\/1817\/4257\/files\/80046-SidelineInfinity60dimensions_c93540d6-48e7-445a-a194-db3522f5fe48_1024x1024.jpg?v=1653426758\"\u003e\u003c\/div\u003e\n\u003ch3\u003eDocuments\u003c\/h3\u003e\n\u003cul\u003e\n\u003cli\u003e\u003ca href=\"https:\/\/ftp.touchstonehomeproducts.com\/documents\/manuals\/fireplace\/WifiFireplaceSetupInstructions-SidelineInfinitySeries.pdf\" target=\"_blank\"\u003e\u003cstrong\u003e80046 - Sideline\u003cspan\u003e® Infinity\u003c\/span\u003e\u003cspan\u003e 60\u003c\/span\u003e\" Electric Fireplace Wi-Fi Setup Guide\u003c\/strong\u003e\u003c\/a\u003e\u003c\/li\u003e\n\u003cli\u003e\n\u003ca href=\"https:\/\/ftp.touchstonehomeproducts.com\/documents\/manuals\/fireplace\/sidelineinfinityseriesmanual.pdf\" target=\"_blank\"\u003e\u003cstrong\u003e80046 - Sideline\u003cspan\u003e® Infinity\u003c\/span\u003e 60\" Electric Fireplace Owners' Manual\u003c\/strong\u003e\u003c\/a\u003e\u003cbr\u003e\u003cstrong\u003e\u003c\/strong\u003e\n\u003c\/li\u003e\n\u003cli\u003e\u003ca href=\"https:\/\/ftp.touchstonehomeproducts.com\/documents\/dimensionaldrawings\/80046-SidelineInfinity60dimensions.jpg\" target=\"_blank\"\u003e\u003cstrong\u003e80046 - Sideline\u003cspan\u003e® Infinity 60\"\u003c\/span\u003e Electric Fireplace Dimensional Drawing\u003c\/strong\u003e\u003c\/a\u003e\u003c\/li\u003e\n\u003c\/ul\u003e\n\u003ch4\u003eDelivery and Shipping\u003c\/h4\u003e\n\u003ch3\u003eDelivery \u0026amp; Shipping\u003c\/h3\u003e\n\u003cp\u003eTouchstone's large Electric Fireplaces are shipped via UPS Freight lift-gate freight service. If you would like priority shipping, please call us at 800-215-1990 to request a quote.\u003cbr\u003e\u003cbr\u003eThese deliveries are handled the same way as any UPS Ground shipment, so they can be left when you are not home. Touchstone™ is responsible for the delivery only to the point that the Fireplace is dropped off, so please be aware of any possible issues with a drop off delivery if you are not home, or if the weather is an issue.\u003cbr\u003e\u003cbr\u003eTouchstone™ sends you an email with your order shipment tracking information, so you can check with the shipping carrier directly to track your shipment.\u003c\/p\u003e\n\u003ch3\u003eShopping in Canada?\u003c\/h3\u003e\n\u003cp\u003e\u003cspan\u003eFor customers shopping in Canada, \u003c\/span\u003e\u003ca href=\"https:\/\/touchstonehomeproducts.myshopify.com\/pages\/shipping-to-canada\"\u003eplease click here\u003c\/a\u003e\u003cspan\u003e for more information about delivery into Canada.\u003c\/span\u003e\u003c\/p\u003e\n\u003ch3\u003eReturn Policy\u003c\/h3\u003e\n\u003cp\u003eFor more information regarding our return policy,\u003cspan\u003e \u003c\/span\u003e\u003ca href=\"https:\/\/www.touchstonehomeproducts.com\/pages\/return-policy\" onclick=\"window.open(this.href, 'mywin', 'left=20,top=20,width=700,height=700,toolbar=0,resizable=1'); return false;\"\u003eplease click here.\u003c\/a\u003e\u003c\/p\u003e\n\u003ch4\u003eWarranty\u003c\/h4\u003e\n\u003ch3\u003eProduct Protection\u003c\/h3\u003e\n\u003cp\u003e\u003cspan class=\"aboutUsOrange\"\u003e\u003cb\u003eINCLUDED IN STANDARD 1-YEAR WARRANTY\u003cspan\u003e \u003c\/span\u003e\u003cem\u003e(INCLUDED WITH FIREPLACE PURCHASE)\u003c\/em\u003e:\u003c\/b\u003e\u003c\/span\u003e\u003c\/p\u003e\n\u003cul\u003e\n\u003cli\u003eReplacement of any non-functioning electronic parts\u003c\/li\u003e\n\u003cli\u003eFree Toll Free tech support (800-215-1990)\u003c\/li\u003e\n\u003c\/ul\u003e\n\u003cp\u003e\u003cspan class=\"aboutUsOrange\"\u003e\u003cb\u003e1-YEAR\u003cspan\u003e \u003c\/span\u003eEXTENDED WARRANTY \u003cem\u003e($99)\u003c\/em\u003e:\u003c\/b\u003e\u003c\/span\u003e\u003c\/p\u003e\n\u003cul\u003e\n\u003cli\u003e1-year extended warranty (continuation of warranty for 1 calendar year AFTER expiration of manufacturers warranty)\u003c\/li\u003e\n\u003cli\u003eReplacement of any non-functioning parts\u003c\/li\u003e\n\u003cli\u003eToll-Free Customer Service \u0026amp; Support\u003c\/li\u003e\n\u003c\/ul\u003e\n\u003cp\u003e\u003cspan class=\"aboutUsOrange\"\u003e\u003cb\u003e2-YEAR EXTENDED WARRANTY\u003cspan\u003e \u003c\/span\u003e\u003cem\u003e($159)\u003c\/em\u003e:\u003c\/b\u003e\u003c\/span\u003e\u003c\/p\u003e\n\u003cul\u003e\n\u003cli\u003e2-year extended warranty (continuation of warranty for 2 calendar years AFTER expiration of manufacturers warranty)\u003c\/li\u003e\n\u003cli\u003eReplacement of any non-functioning parts\u003c\/li\u003e\n\u003cli\u003eToll-Free Customer Service \u0026amp; Support\u003c\/li\u003e\n\u003c\/ul\u003e\n\u003ch4\u003eReviews\u003c\/h4\u003e\n\u003ch4\u003eVideo\u003c\/h4\u003e\n\u003ch3\u003eProduct Videos\u003c\/h3\u003e\n\u003cp\u003eWatch the Touchstone® Sideline Infinity 3-Sided Electric Fireplace installation from start to finish.\u003c\/p\u003e\n\u003cbr\u003e\n\u003cdiv class=\"videoWrapper\"\u003e\u003ciframe src=\"https:\/\/www.youtube.com\/embed\/8DJLvcwOn1Y\" title=\"YouTube video player\" allow=\"accelerometer; autoplay; clipboard-write; encrypted-media; gyroscope; picture-in-picture\" allowfullscreen=\"\" width=\"560\" height=\"315\" frameborder=\"0\"\u003e\u003c\/iframe\u003e\u003c\/div\u003e"}
Sideline Infinity 3 Sided 60" WiFi Enabled Smart Recessed Electric Fireplace 80046 (Alexa/Google Compatible)
Sideline Infinity 3 Sided 60" WiFi Enabled Smart Recessed Electric Fireplace 80046 (Alexa/Google Compatible)
Product Highlights
3-sided fireplace with see-through glass on the front and sides
60-inch model
4 installation options: three glass sides, left side visible, right side visible or front only visible
2 heat settings: low and high (750W/1500W), with thermometer (68-88°F) or constant on
6 flame color options and 10 media bed color options
5 flame and media bed light intensity settings
3 flame speeds and timer up to 8 hours
Can be plugged in or hardwired
Wi-Fi enabled, Smartphone compatibility
Turn on or off by using Amazon Alexa or Google Home
Includes log set, clear and black crystals
Touchscreen and remote control
Overview
Enjoy the elegant flames from every angle. The 60-inch wide Touchstone Sideline® Infinity 3-Sided Electric Fireplace offers a beautiful, multi-dimensional flame view. This versatile multi-sided electric fireplace can be installed four ways: front and side glass visible, right side hidden, left side hidden, fully recessed with front glass only. Includes a mounting bracket for easy installation.
Realistic Flames
The premium LED flame display provides the same relaxing ambiance and authentic look as a wood or gas burning fireplace without the mess or smell. Easily tap the touchscreen or remote control to adjust the colors and intensity of the flames and flame bed.
60 Color Combinations
Set the mood and match your style with 10 flame and 6 flame bed colors.
Built-in Heater
Add cozy, supplemental heat to your room. With two heat settings plus a thermostat and 8-hour timer with auto shut off, the Sideline Infinity Fireplace quickly warms a 400 square foot area. While the heater is not designed to be the primary heat source in the room, the Sideline Infinity will take the chill off and raise the temperature by a few degrees. The heat vent is on the front of the unit.
Year-Round Use
The dual mode flames and heat work independently so you can enjoy the calming flames, with or without heat, in any season.
Cool to the Touch Glass
A safer alternative to a wood burning fire, the Sideline Infinity glass front and sides remain cool to the touch.
Easy, Versatile Installation
With several installation options, the Sideline Infinity adds a sleek, modern fireplace style to any room. The fireplace can be plugged into an outlet or hardwired. Includes a mounting bracket.
3 Sided View: Insert the base in the wall or frame with 2 glass sides and front in view
2-Sided View: Cover one side so only the front glass and left or right side are in view
Front View Only: Insert completely in the wall so only the front glass is in view
Customize the Fireplace Media
The Sideline Infinity includes a log set and crystals to match your style. The clear and black crystals add a modern flare while the log provides a more traditional look.
Ceiling and TV Mounting Space
We recommend placing the Sideline Infinity at least 20 inches below the ceiling or 8 inches below a wall mounted TV for a safe clearance from the fireplace heating vent.
Easy Operation - WiFi Enabled
Adjust the flames, flame bed and heat settings by touchscreen, remote control or smartphone app. The touchscreen lights dim a few seconds after adjustment. See the WiFi Set Up Guide for more information.
The included remote control requires AAA batteries (not included).
Specifications
Frame Color:

 

Black
Fireplace Dimensions:

 

60" wide x 17.25" high x 8" deep
Firebox Dimensions:

 60" wide x 17" high x 8" deep

Rough Opening Dimensions: 60.25" wide x 17.5" high x 8" deep
Shipping Carton Dimensions: 65" wide x  30" high x 20" deep
Fire Dimensions:

 

Part number:

 

80046
Watts:

 

1,500
BTU's:

 

5,118
Room Coverage:

 

400 ft.
Fireplace Weight:

 

110 pounds
Shipping Weight:

 

145 pounds
Voltage:

 

110v-120v
Amperes:

 

12
Dimensional Drawing
Documents
Delivery & Shipping
Touchstone's large Electric Fireplaces are shipped via UPS Freight lift-gate freight service. If you would like priority shipping, please call us at 800-215-1990 to request a quote.

These deliveries are handled the same way as any UPS Ground shipment, so they can be left when you are not home. Touchstone™ is responsible for the delivery only to the point that the Fireplace is dropped off, so please be aware of any possible issues with a drop off delivery if you are not home, or if the weather is an issue.

Touchstone™ sends you an email with your order shipment tracking information, so you can check with the shipping carrier directly to track your shipment.
Shopping in Canada?
For customers shopping in Canada, please click here for more information about delivery into Canada.
Return Policy
For more information regarding our return policy, please click here.
Product Protection
INCLUDED IN STANDARD 1-YEAR WARRANTY (INCLUDED WITH FIREPLACE PURCHASE):
Replacement of any non-functioning electronic parts
Free Toll Free tech support (800-215-1990)
1-YEAR EXTENDED WARRANTY ($99):
1-year extended warranty (continuation of warranty for 1 calendar year AFTER expiration of manufacturers warranty)
Replacement of any non-functioning parts
Toll-Free Customer Service & Support
2-YEAR EXTENDED WARRANTY ($159):
2-year extended warranty (continuation of warranty for 2 calendar years AFTER expiration of manufacturers warranty)
Replacement of any non-functioning parts
Toll-Free Customer Service & Support
Product Videos
Watch the Touchstone® Sideline Infinity 3-Sided Electric Fireplace installation from start to finish.
Customer Reviews
Write a Review
Ask a Question
02/06/2022
Carrie

United States
Amazing
This arrived fast and packaged well. Quality of the product is great. Works well.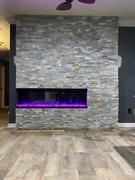 10/14/2021
Crystal T.

United States
Great
The fireplace is a total new look for the entire room so easy to use. The mood in my house changes with the color of the fire. The last time we played uno as a family infront of a fireplace was camping now we do it in our living room.