{"id":9661496833,"title":"The Elevate 72012 Unfinished TV Lift Cabinet for 50\" Flat screen TVs","handle":"the-elevate-unfinished-touchstones-value-priced-wood-tv-lift-cabinet-9-finishes-available","description":"\u003ch4\u003eOverview\u003c\/h4\u003e\n\u003ch3\u003eProduct Highlights\u003c\/h3\u003e\n\u003cul\u003e\n\u003cli\u003e\u003cstrong\u003eFits up to 50" TVs (45" wide left to right)\u003c\/strong\u003e\u003c\/li\u003e\n\u003cli\u003e\u003cstrong\u003eBeautiful unfinished birch cabinet, ready to be painted\u003c\/strong\u003e\u003c\/li\u003e\n\u003cli\u003e\u003cstrong\u003eSame paneling on both sides for versatile placement in the room, including end of bed use\u003c\/strong\u003e\u003c\/li\u003e\n\u003cli\u003e\u003cstrong\u003eTransitional cabinet design that fits seamlessly with existing furniture\u003c\/strong\u003e\u003c\/li\u003e\n\u003cli\u003e\u003cstrong\u003eCompatible with the add-on component shelf to store electronics\u003c\/strong\u003e\u003c\/li\u003e\n\u003cli\u003e\u003cstrong\u003eQuiet and reliable Whisper Lift II which includes a 5-year warranty\u003c\/strong\u003e\u003c\/li\u003e\n\u003c\/ul\u003e\n\u003cul\u003e\u003c\/ul\u003e\n\u003ch3\u003eOverview\u003c\/h3\u003e\n\u003cp\u003eThe Elevate\u003cspan\u003e®\u003c\/span\u003e pop up TV lift cabinet with unfinished wood gives you the freedom to customize the wood color to match your decor. Inside the cabinet, Touchstone's industry-leading Whisper Lift\u003cspan\u003e®\u003c\/span\u003e II motorized TV lift raises and lowers your TV on demand.\u003c\/p\u003e\n\u003ch3\u003eChoose Your Finish\u003c\/h3\u003e\n\u003cp\u003eChoose an unfinished Elevate\u003cspan\u003e®\u003c\/span\u003e TV lift cabinet and paint the cabinet yourself.\u003c\/p\u003e\n\u003cp\u003e\u003cb\u003e\u003cem\u003eDISCLAIMER\u003c\/em\u003e\u003c\/b\u003e: Paints are applied to enhance the natural beauty of the wood. Due to individual characteristics of wood, colors may vary.\u003c\/p\u003e\n\u003ch3\u003eCustomizable, Space-Saving Versatility\u003c\/h3\u003e\n\u003cp\u003eThe Elevate\u003cspan\u003e®\u003c\/span\u003e unfinished TV lift cabinet is the perfect solution for those who have small spaces and hard to match interior color schemes. Whether you're the do it yourself type or need a special custom finish to match your decor, The Elevate\u003cspan\u003e®\u003c\/span\u003e is the ideal choice. Stylish yet affordable, The Elevate\u003cspan\u003e®\u003c\/span\u003e TV Lift Cabinet features Touchstone's patented TV lift technology that fully cycles up or down in less than 30 seconds with the push of a button.\u003c\/p\u003e\n\u003cp\u003eThe Elevate\u003cspan\u003e®\u003c\/span\u003e by Touchstone will accommodate flat screen televisions up to 45 wide\". Easily conceal your video cables inside The Elevate\u003cspan\u003e®\u003c\/span\u003e by feeding them through the bottom of the cabinet and hiding them from sight. Electronic components can be easily stored on our add-on component shelf or tucked away inside at the bottom of the cabinet where you have 17 1\/2\" W x 12 5\/8\" D of area on the left and right sides of the TV lift cabinet.\u003c\/p\u003e\n\u003ch3\u003eOptional Component Shelf Available\u003c\/h3\u003e\n\u003cp\u003eYou can also upgrade the The Elevate\u003cspan\u003e®\u003c\/span\u003e with our \u003ca href=\"https:\/\/www.touchstonehomeproducts.com\/products\/whisper-lift-add-on-component-shelf?variant=35397483521\"\u003eAdd-On Component Shelf\u003c\/a\u003e to store your cable box, video game system, DVD player, and other components for just $79 when your add it to your cabinet purchase (Shelf is $89 when purchased as a standalone purchase). The add-on component shelf attaches to the TV lift system directly below the flat screen TV and raises or lowers into the cabinet along with your TV when remotely activated. The shelf provides an area of 16\" W x 9\" D on both the left and right side to fit a wide variety of multimedia components. You can also add an optional \u003ca href=\"https:\/\/www.touchstonehomeproducts.com\/products\/ir-repeater-kit?variant=35397504833\"\u003eIR Repeater Kit\u003c\/a\u003e.\u003c\/p\u003e\n\u003ch3\u003e\u003c\/h3\u003e\n\u003ch3\u003eIncludes Our Top Rated Motorized TV Lift\u003c\/h3\u003e\n\u003cp class=\"p1\"\u003e\u003cspan class=\"s1\"\u003eIncluded in The Elevate\u003cspan\u003e®\u003c\/span\u003e Unfinished Cabinet is Touchstone's Whisper Lift II TV Lift, which fully raises or lowers your flat screen TV in less than 30 seconds, and reaches an extended height of 65.5\". Installation is quick and easy, and we provide step by step instructions, as well as phone and online support, to help you get set up in just minutes. \u003c\/span\u003e\u003c\/p\u003e\n\u003ch3\u003eProduct Features\u003c\/h3\u003e\n\u003cul\u003e\n\u003cli\u003eFully raises or lowers in less than 30 seconds\u003c\/li\u003e\n\u003cli\u003eInside component space of 17 1\/2\" W x 12 5\/8\" D on left and right side bottom of the cabinet. Measurements must include cords \u0026amp; plugs.\u003c\/li\u003e\n\u003cli\u003eOptional Add-on component shelf provides 16\" W x 9\" D on both the left and right side\u003c\/li\u003e\n\u003cli\u003eIncludes wireless remote control\u003c\/li\u003e\n\u003cli\u003eTV Lift system fully extended reaches 68.5\"\u003c\/li\u003e\n\u003cli\u003eTV Lift system fully depressed measures 32.5\" H x 10\" W x 7.5\" D\u003c\/li\u003e\n\u003cli\u003ePop out front cabinet panel provides easy access to lift and electronics inside the cabinet.\u003c\/li\u003e\n\u003c\/ul\u003e\n\u003ch4\u003eSpecifications\u003c\/h4\u003e\n\u003ch3\u003eSpecifications\u003c\/h3\u003e\n\u003cul\u003e\n\u003cli\u003e\n\u003cb\u003eColor Finish:\u003c\/b\u003e Unfinished\u003c\/li\u003e\n\u003cli\u003e\n\u003cb\u003eUnit Dimensions:\u003c\/b\u003e 49.5\" W x 18\" D x 35.62\" H\u003c\/li\u003e\n\u003cli\u003e\n\u003cb\u003eMaximum TV Size w Whisper Lift II:\u003c\/b\u003e 45\" W x 5\" D x 32.5\" H (TV plus component height)\u003c\/li\u003e\n\u003cli\u003e\n\u003cstrong\u003eMaximum Cabinet TV Size w Whisper Lift II PRO Swivel:\u003c\/strong\u003e\u003cspan\u003e 4\u003c\/span\u003e5\"W x 4\"D\u003cspan\u003e \u003c\/span\u003ex 32.5\"H (TV plus components)\u003c\/li\u003e\n\u003cli\u003e\n\u003cb\u003eMaximum TV weight (without stand): \u003c\/b\u003e 100 lb.\u003c\/li\u003e\n\u003cli\u003e\n\u003cb\u003eCabinet weight with lift:\u003c\/b\u003e 170 lb.\u003c\/li\u003e\n\u003cli\u003e\n\u003cb\u003eTotal shipping weight:\u003c\/b\u003e 260 lb.\u003c\/li\u003e\n\u003cli\u003e\n\u003cb\u003eUnit shipping dimensions:\u003c\/b\u003e 55\" W x 46\" D x 34\" H (on pallet)\u003c\/li\u003e\n\u003cli\u003e\n\u003cb\u003eInterior component space:\u003c\/b\u003e 17 1\/2\" W x 12 5\/8\" D on left \u0026amp; right side bottom of cabinet (measurements must include cords \u0026amp; plugs)\u003c\/li\u003e\n\u003c\/ul\u003e\n\u003cstrong\u003e\u003ca href=\"https:\/\/cdn.shopify.com\/s\/files\/1\/1817\/4257\/files\/72012-Man.pdf?8645176910585047639\" target=\"_blank\"\u003eElevate\u003cspan\u003e®\u003c\/span\u003e Unfinished TV Lift Cabinet Owners Manual\u003c\/a\u003e\u003c\/strong\u003e\u003cbr\u003e\n\u003ch4\u003eDelivery \u0026amp; Shipping\u003c\/h4\u003e\n\u003ch3\u003eDelivery \u0026amp; Shipping\u003c\/h3\u003e\n\u003cp\u003eHere at Touchstone\u003cspan\u003e™\u003c\/span\u003e, we know how difficult it can be to find the perfect piece of furniture for your home and we appreciate you including us in that process. We want to make your experience with Touchstone Home Products\u003cspan\u003e™\u003c\/span\u003e as pleasant and painless as possible.\u003c\/p\u003e\n\u003ch5\u003e\u003cstrong\u003eDELIVERY OPTIONS – FULL SIZE, MID-SIZE, FIREPLACE CABINETS AND GRAND ELEVATE\u003cspan\u003e®\u003c\/span\u003e CABINETS\u003c\/strong\u003e\u003c\/h5\u003e\n\u003ch3\u003e\n\u003cstrong\u003eLTL-Curbside Delivery\u003c\/strong\u003e (Included):\u003c\/h3\u003e\n\u003cul\u003e\n\u003cli\u003eOur LTL-Curbside Delivery Service is included in the price of all cabinets and includes the following:\u003c\/li\u003e\n\u003cli\u003eLift-gate delivery to curbside at your home or place of business.\u003c\/li\u003e\n\u003cli\u003eItem will be left in its original packaging.\u003c\/li\u003e\n\u003cli\u003eThe customer is responsible for unpacking cabinet and bringing cabinet into the home.\u003c\/li\u003e\n\u003c\/ul\u003e\n\u003ch5\u003e\u003cbr\u003e\u003c\/h5\u003e\n\u003cul\u003e\u003c\/ul\u003e\n\u003ch5\u003e\n\u003cstrong\u003e\u003cem\u003e\u003c\/em\u003e\u003c\/strong\u003e\u003cstrong\u003eDELIVERY NOTES:\u003c\/strong\u003e\n\u003c\/h5\u003e\n\u003cul\u003e\n\u003cli\u003eAfter your order has shipped, a representative from the shipping company will contact you to schedule delivery of your Touchstone\u003cspan\u003e™\u003c\/span\u003e TV Lift Cabinet. The carrier will provide a date and 4-hour window for delivery.\u003c\/li\u003e\n\u003cli\u003eTV and component installation is not part of the delivery. This is the responsibility of the customer.\u003c\/li\u003e\n\u003c\/ul\u003e\n\u003ch3\u003eShopping in Canada?\u003c\/h3\u003e\n\u003cp\u003e\u003cspan\u003eFor customers shopping in Canada, \u003c\/span\u003e\u003ca href=\"https:\/\/touchstonehomeproducts.myshopify.com\/pages\/shipping-to-canada\" target=\"_blank\"\u003eplease click here\u003c\/a\u003e\u003cspan\u003e for more information about delivery into Canada.\u003c\/span\u003e\u003c\/p\u003e\n\u003ch3\u003eReturn Policy\u003c\/h3\u003e\n\u003cp\u003eFor more information regarding our return policy, \u003ca href=\"https:\/\/www.touchstonehomeproducts.com\/pages\/return-policy\" onclick=\"window.open(this.href, 'mywin', 'left=20,top=20,width=700,height=700,toolbar=0,resizable=1'); return false;\"\u003eplease click here.\u003c\/a\u003e\u003c\/p\u003e\n\u003ch4\u003eWarranty\u003c\/h4\u003e\n\u003ch3\u003eProduct Protection\u003c\/h3\u003e\n\u003cp\u003e\u003cspan class=\"aboutUsOrange\"\u003e\u003cb\u003eINCLUDED IN STANDARD 2-YEAR WARRANTY \u003cem\u003e(INCLUDED WITH CABINET PURCHASE)\u003c\/em\u003e:\u003c\/b\u003e\u003c\/span\u003e\u003c\/p\u003e\n\u003cul\u003e\n\u003cli\u003eReplacement of any non-functioning electronic parts\u003c\/li\u003e\n\u003cli\u003eReplacement of any non-functioning lift parts\u003c\/li\u003e\n\u003cli\u003eFree Toll Free tech support \u003cspan data-mce-fragment=\"1\"\u003e(800-215-1990)\u003c\/span\u003e\n\u003c\/li\u003e\n\u003cli\u003eCoverage of InfraRed repeaters\u003c\/li\u003e\n\u003c\/ul\u003e\n\u003cp\u003e\u003cbr\u003e\u003c\/p\u003e\n\u003cul\u003e\u003c\/ul\u003e\n\u003ch4\u003eReviews\u003c\/h4\u003e\n\u003ch4\u003eVideo\u003c\/h4\u003e\n\u003cp\u003eThis video of the Elevate TV Lift Cabinet displays displays the cabinets features in detail. Available in an \u003ca href=\"https:\/\/www.touchstonehomeproducts.com\/products\/elevate-72008-tv-lift-cabinet-for-50-flat-screen-tvs?variant=347958771713\" target=\"_blank\"\u003eEspresso\u003c\/a\u003e, \u003ca href=\"https:\/\/www.touchstonehomeproducts.com\/products\/the-elevate-in-rich-black-touchstones-value-priced-wood-tv-lift-cabinet?variant=35397017537\" target=\"_blank\"\u003eBlack\u003c\/a\u003e, \u003ca href=\"https:\/\/www.touchstonehomeproducts.com\/products\/the-elevate-in-honey-oak-touchstones-value-priced-wood-tv-cabinet?variant=35397004289\" target=\"_blank\"\u003eHoney Oak\u003c\/a\u003e, Unfinished and \u003ca href=\"https:\/\/www.touchstonehomeproducts.com\/products\/the-elevate-vintage-trunk-touchstones-leather-wrapped-tv-lift-cabinet?variant=35396956545\" target=\"_blank\"\u003eVintage Leather\u003c\/a\u003e finish. Manufactured in two widths to fit your TV. Elevate fits up to 50 inch flat screen televisions and Grand Elevate fits up to 65 inch flat screen televisions.\u003c\/p\u003e\n\u003cdiv style=\"text-align: center;\"\u003e\u003ciframe width=\"560\" height=\"315\" src=\"https:\/\/www.youtube-nocookie.com\/embed\/a4RTWuPfwsQ?rel=0\" frameborder=\"0\" allow=\"autoplay; encrypted-media\" allowfullscreen=\"\"\u003e\u003c\/iframe\u003e\u003c\/div\u003e\n\u003cdiv style=\"text-align: center;\"\u003e\u003c\/div\u003e\n\u003cdiv style=\"text-align: left;\"\u003e\u003cspan\u003e\u003c\/span\u003e\u003c\/div\u003e\n\u003cdiv style=\"text-align: left;\"\u003e\u003cspan\u003e\u003c\/span\u003e\u003c\/div\u003e\n\u003cdiv style=\"text-align: left;\"\u003e\u003cspan\u003e\u003c\/span\u003e\u003c\/div\u003e\n\u003cdiv style=\"text-align: left;\"\u003e\u003cspan\u003e\u003c\/span\u003e\u003c\/div\u003e\n\u003cp style=\"text-align: center;\"\u003e\u003cbr\u003e \u003ciframe width=\"560\" height=\"315\" src=\"https:\/\/www.youtube.com\/embed\/UgpLIzkxdR4?rel=0\" frameborder=\"0\" allow=\"autoplay; encrypted-media\" allowfullscreen=\"\"\u003e\u003c\/iframe\u003e\u003c\/p\u003e\n\u003cp\u003e \u003c\/p\u003e\n\u003cdiv style=\"text-align: left;\"\u003e\u003cspan\u003eThis is a quick walk through on how easy it is to install our Whisper Lift II or Whisper Lift II Pro into our Elevate® line of cabinets.  \u003c\/span\u003e\u003c\/div\u003e\n\u003cbr\u003e\n\u003cdiv style=\"text-align: left;\"\u003e\u003cspan\u003e\u003c\/span\u003e\u003c\/div\u003e\n\u003cdiv style=\"text-align: left;\"\u003e\u003cspan\u003e\u003c\/span\u003e\u003c\/div\u003e\n\u003cdiv style=\"text-align: left;\"\u003e\n\u003cp style=\"text-align: center;\"\u003e\u003ciframe src=\"https:\/\/www.youtube.com\/embed\/V4XHxPIx5xI\" width=\"560\" height=\"315\" allowfullscreen=\"\" frameborder=\"0\"\u003e\u003c\/iframe\u003e\u003c\/p\u003e\n\u003c\/div\u003e\n\u003cdiv style=\"text-align: left;\"\u003e\u003cspan\u003e\u003c\/span\u003e\u003c\/div\u003e\n\u003cdiv style=\"text-align: center;\"\u003e\u003c\/div\u003e","published_at":"2017-06-07T11:13:25-04:00","created_at":"2017-06-07T11:13:31-04:00","vendor":"Touchstone Home Products","type":"TV Lift Cabinet","tags":["Cabinet Finish_Unfinished","Cabinet Height_35.5 inches","Cabinet Width_49.5 inches","Max TV Size_ 45\"W x 5.5\"D x 32\"H"],"price":209900,"price_min":209900,"price_max":267800,"available":true,"price_varies":true,"compare_at_price":209900,"compare_at_price_min":209900,"compare_at_price_max":267800,"compare_at_price_varies":true,"variants":[{"id":38225052865,"title":"23202 - Whisper Lift II (Included) \/ No Shelf","option1":"23202 - Whisper Lift II (Included)","option2":"No Shelf","option3":null,"sku":"72012","requires_shipping":true,"taxable":true,"featured_image":{"id":22542894465,"product_id":9661496833,"position":1,"created_at":"2017-06-09T15:53:15-04:00","updated_at":"2021-02-05T15:00:30-05:00","alt":"Elevate 72012 Unfinished TV Lift Cabinet for 50\" Flat screen TVs - Touchstone Home Products, Inc.","width":1024,"height":1024,"src":"https:\/\/cdn.shopify.com\/s\/files\/1\/1817\/4257\/products\/72012-primary.jpg?v=1612555230","variant_ids":[38225052865,38225108289,38225109441,38549876097,38549876225,38549876289]},"available":true,"name":"The Elevate 72012 Unfinished TV Lift Cabinet for 50\" Flat screen TVs - 23202 - Whisper Lift II (Included) \/ No Shelf","public_title":"23202 - Whisper Lift II (Included) \/ No Shelf","options":["23202 - Whisper Lift II (Included)","No Shelf"],"price":209900,"weight":113398,"compare_at_price":209900,"inventory_quantity":0,"inventory_management":"shopify","inventory_policy":"continue","barcode":"631361720124","featured_media":{"alt":"Elevate 72012 Unfinished TV Lift Cabinet for 50\" Flat screen TVs - Touchstone Home Products, Inc.","id":454092128301,"position":1,"preview_image":{"aspect_ratio":1.0,"height":1024,"width":1024,"src":"https:\/\/cdn.shopify.com\/s\/files\/1\/1817\/4257\/products\/72012-primary.jpg?v=1612555230"}},"requires_selling_plan":false,"selling_plan_allocations":[]},{"id":38549876097,"title":"23202 - Whisper Lift II (Included) \/ 25021 - Add-on Component Shelf [+$79]","option1":"23202 - Whisper Lift II (Included)","option2":"25021 - Add-on Component Shelf [+$79]","option3":null,"sku":"72012","requires_shipping":true,"taxable":true,"featured_image":{"id":22542894465,"product_id":9661496833,"position":1,"created_at":"2017-06-09T15:53:15-04:00","updated_at":"2021-02-05T15:00:30-05:00","alt":"Elevate 72012 Unfinished TV Lift Cabinet for 50\" Flat screen TVs - Touchstone Home Products, Inc.","width":1024,"height":1024,"src":"https:\/\/cdn.shopify.com\/s\/files\/1\/1817\/4257\/products\/72012-primary.jpg?v=1612555230","variant_ids":[38225052865,38225108289,38225109441,38549876097,38549876225,38549876289]},"available":true,"name":"The Elevate 72012 Unfinished TV Lift Cabinet for 50\" Flat screen TVs - 23202 - Whisper Lift II (Included) \/ 25021 - Add-on Component Shelf [+$79]","public_title":"23202 - Whisper Lift II (Included) \/ 25021 - Add-on Component Shelf [+$79]","options":["23202 - Whisper Lift II (Included)","25021 - Add-on Component Shelf [+$79]"],"price":217800,"weight":113398,"compare_at_price":217800,"inventory_quantity":0,"inventory_management":"shopify","inventory_policy":"continue","barcode":"631361720124","featured_media":{"alt":"Elevate 72012 Unfinished TV Lift Cabinet for 50\" Flat screen TVs - Touchstone Home Products, Inc.","id":454092128301,"position":1,"preview_image":{"aspect_ratio":1.0,"height":1024,"width":1024,"src":"https:\/\/cdn.shopify.com\/s\/files\/1\/1817\/4257\/products\/72012-primary.jpg?v=1612555230"}},"requires_selling_plan":false,"selling_plan_allocations":[]},{"id":38225108289,"title":"23401 - Whisper Lift II PRO [+$200] \/ No Shelf","option1":"23401 - Whisper Lift II PRO [+$200]","option2":"No Shelf","option3":null,"sku":"72012","requires_shipping":true,"taxable":true,"featured_image":{"id":22542894465,"product_id":9661496833,"position":1,"created_at":"2017-06-09T15:53:15-04:00","updated_at":"2021-02-05T15:00:30-05:00","alt":"Elevate 72012 Unfinished TV Lift Cabinet for 50\" Flat screen TVs - Touchstone Home Products, Inc.","width":1024,"height":1024,"src":"https:\/\/cdn.shopify.com\/s\/files\/1\/1817\/4257\/products\/72012-primary.jpg?v=1612555230","variant_ids":[38225052865,38225108289,38225109441,38549876097,38549876225,38549876289]},"available":true,"name":"The Elevate 72012 Unfinished TV Lift Cabinet for 50\" Flat screen TVs - 23401 - Whisper Lift II PRO [+$200] \/ No Shelf","public_title":"23401 - Whisper Lift II PRO [+$200] \/ No Shelf","options":["23401 - Whisper Lift II PRO [+$200]","No Shelf"],"price":229900,"weight":113398,"compare_at_price":229900,"inventory_quantity":0,"inventory_management":"shopify","inventory_policy":"continue","barcode":"631361720124","featured_media":{"alt":"Elevate 72012 Unfinished TV Lift Cabinet for 50\" Flat screen TVs - Touchstone Home Products, Inc.","id":454092128301,"position":1,"preview_image":{"aspect_ratio":1.0,"height":1024,"width":1024,"src":"https:\/\/cdn.shopify.com\/s\/files\/1\/1817\/4257\/products\/72012-primary.jpg?v=1612555230"}},"requires_selling_plan":false,"selling_plan_allocations":[]},{"id":38549876225,"title":"23401 - Whisper Lift II PRO [+$200] \/ 25021 - Add-on Component Shelf [+$79]","option1":"23401 - Whisper Lift II PRO [+$200]","option2":"25021 - Add-on Component Shelf [+$79]","option3":null,"sku":"72012","requires_shipping":true,"taxable":true,"featured_image":{"id":22542894465,"product_id":9661496833,"position":1,"created_at":"2017-06-09T15:53:15-04:00","updated_at":"2021-02-05T15:00:30-05:00","alt":"Elevate 72012 Unfinished TV Lift Cabinet for 50\" Flat screen TVs - Touchstone Home Products, Inc.","width":1024,"height":1024,"src":"https:\/\/cdn.shopify.com\/s\/files\/1\/1817\/4257\/products\/72012-primary.jpg?v=1612555230","variant_ids":[38225052865,38225108289,38225109441,38549876097,38549876225,38549876289]},"available":true,"name":"The Elevate 72012 Unfinished TV Lift Cabinet for 50\" Flat screen TVs - 23401 - Whisper Lift II PRO [+$200] \/ 25021 - Add-on Component Shelf [+$79]","public_title":"23401 - Whisper Lift II PRO [+$200] \/ 25021 - Add-on Component Shelf [+$79]","options":["23401 - Whisper Lift II PRO [+$200]","25021 - Add-on Component Shelf [+$79]"],"price":237800,"weight":113398,"compare_at_price":237800,"inventory_quantity":0,"inventory_management":"shopify","inventory_policy":"continue","barcode":"631361720124","featured_media":{"alt":"Elevate 72012 Unfinished TV Lift Cabinet for 50\" Flat screen TVs - Touchstone Home Products, Inc.","id":454092128301,"position":1,"preview_image":{"aspect_ratio":1.0,"height":1024,"width":1024,"src":"https:\/\/cdn.shopify.com\/s\/files\/1\/1817\/4257\/products\/72012-primary.jpg?v=1612555230"}},"requires_selling_plan":false,"selling_plan_allocations":[]},{"id":38225109441,"title":"23501 - Whisper Lift II PRO w\/Swivel [+$500] \/ No Shelf","option1":"23501 - Whisper Lift II PRO w\/Swivel [+$500]","option2":"No Shelf","option3":null,"sku":"72012","requires_shipping":true,"taxable":true,"featured_image":{"id":22542894465,"product_id":9661496833,"position":1,"created_at":"2017-06-09T15:53:15-04:00","updated_at":"2021-02-05T15:00:30-05:00","alt":"Elevate 72012 Unfinished TV Lift Cabinet for 50\" Flat screen TVs - Touchstone Home Products, Inc.","width":1024,"height":1024,"src":"https:\/\/cdn.shopify.com\/s\/files\/1\/1817\/4257\/products\/72012-primary.jpg?v=1612555230","variant_ids":[38225052865,38225108289,38225109441,38549876097,38549876225,38549876289]},"available":true,"name":"The Elevate 72012 Unfinished TV Lift Cabinet for 50\" Flat screen TVs - 23501 - Whisper Lift II PRO w\/Swivel [+$500] \/ No Shelf","public_title":"23501 - Whisper Lift II PRO w\/Swivel [+$500] \/ No Shelf","options":["23501 - Whisper Lift II PRO w\/Swivel [+$500]","No Shelf"],"price":259900,"weight":113398,"compare_at_price":259900,"inventory_quantity":0,"inventory_management":"shopify","inventory_policy":"continue","barcode":"631361720124","featured_media":{"alt":"Elevate 72012 Unfinished TV Lift Cabinet for 50\" Flat screen TVs - Touchstone Home Products, Inc.","id":454092128301,"position":1,"preview_image":{"aspect_ratio":1.0,"height":1024,"width":1024,"src":"https:\/\/cdn.shopify.com\/s\/files\/1\/1817\/4257\/products\/72012-primary.jpg?v=1612555230"}},"requires_selling_plan":false,"selling_plan_allocations":[]},{"id":38549876289,"title":"23501 - Whisper Lift II PRO w\/Swivel [+$500] \/ 25021 - Add-on Component Shelf [+$79]","option1":"23501 - Whisper Lift II PRO w\/Swivel [+$500]","option2":"25021 - Add-on Component Shelf [+$79]","option3":null,"sku":"72012","requires_shipping":true,"taxable":true,"featured_image":{"id":22542894465,"product_id":9661496833,"position":1,"created_at":"2017-06-09T15:53:15-04:00","updated_at":"2021-02-05T15:00:30-05:00","alt":"Elevate 72012 Unfinished TV Lift Cabinet for 50\" Flat screen TVs - Touchstone Home Products, Inc.","width":1024,"height":1024,"src":"https:\/\/cdn.shopify.com\/s\/files\/1\/1817\/4257\/products\/72012-primary.jpg?v=1612555230","variant_ids":[38225052865,38225108289,38225109441,38549876097,38549876225,38549876289]},"available":true,"name":"The Elevate 72012 Unfinished TV Lift Cabinet for 50\" Flat screen TVs - 23501 - Whisper Lift II PRO w\/Swivel [+$500] \/ 25021 - Add-on Component Shelf [+$79]","public_title":"23501 - Whisper Lift II PRO w\/Swivel [+$500] \/ 25021 - Add-on Component Shelf [+$79]","options":["23501 - Whisper Lift II PRO w\/Swivel [+$500]","25021 - Add-on Component Shelf [+$79]"],"price":267800,"weight":113398,"compare_at_price":267800,"inventory_quantity":0,"inventory_management":"shopify","inventory_policy":"continue","barcode":"631361720124","featured_media":{"alt":"Elevate 72012 Unfinished TV Lift Cabinet for 50\" Flat screen TVs - Touchstone Home Products, Inc.","id":454092128301,"position":1,"preview_image":{"aspect_ratio":1.0,"height":1024,"width":1024,"src":"https:\/\/cdn.shopify.com\/s\/files\/1\/1817\/4257\/products\/72012-primary.jpg?v=1612555230"}},"requires_selling_plan":false,"selling_plan_allocations":[]}],"images":["\/\/cdn.shopify.com\/s\/files\/1\/1817\/4257\/products\/72012-primary.jpg?v=1612555230","\/\/cdn.shopify.com\/s\/files\/1\/1817\/4257\/products\/72012D.jpg?v=1612555230","\/\/cdn.shopify.com\/s\/files\/1\/1817\/4257\/products\/72012H.jpg?v=1612555230","\/\/cdn.shopify.com\/s\/files\/1\/1817\/4257\/products\/72012-3_grande_a605d0a2-f854-4700-a8f3-384416a30f90.jpg?v=1612555230","\/\/cdn.shopify.com\/s\/files\/1\/1817\/4257\/products\/72012K.jpg?v=1612555230","\/\/cdn.shopify.com\/s\/files\/1\/1817\/4257\/products\/72012J.jpg?v=1612555230","\/\/cdn.shopify.com\/s\/files\/1\/1817\/4257\/products\/72012G.jpg?v=1612555230","\/\/cdn.shopify.com\/s\/files\/1\/1817\/4257\/products\/72012F.jpg?v=1612555230","\/\/cdn.shopify.com\/s\/files\/1\/1817\/4257\/products\/72012D_f2af03f9-65cd-4b45-ba34-fccb4c73c4e5.jpg?v=1612555230","\/\/cdn.shopify.com\/s\/files\/1\/1817\/4257\/products\/72012E.jpg?v=1612555230"],"featured_image":"\/\/cdn.shopify.com\/s\/files\/1\/1817\/4257\/products\/72012-primary.jpg?v=1612555230","options":["Choose your lift (Whisper Lift II Included)","Add on Component Shelf (Not included in base price)"],"media":[{"alt":"Elevate 72012 Unfinished TV Lift Cabinet for 50\" Flat screen TVs - Touchstone Home Products, Inc.","id":454092128301,"position":1,"preview_image":{"aspect_ratio":1.0,"height":1024,"width":1024,"src":"https:\/\/cdn.shopify.com\/s\/files\/1\/1817\/4257\/products\/72012-primary.jpg?v=1612555230"},"aspect_ratio":1.0,"height":1024,"media_type":"image","src":"https:\/\/cdn.shopify.com\/s\/files\/1\/1817\/4257\/products\/72012-primary.jpg?v=1612555230","width":1024},{"alt":"Elevate 72012 Unfinished TV Lift Cabinet for 50\" Flat screen TVs - Touchstone Home Products, Inc.","id":617834479661,"position":2,"preview_image":{"aspect_ratio":1.0,"height":2048,"width":2048,"src":"https:\/\/cdn.shopify.com\/s\/files\/1\/1817\/4257\/products\/72012D.jpg?v=1612555230"},"aspect_ratio":1.0,"height":2048,"media_type":"image","src":"https:\/\/cdn.shopify.com\/s\/files\/1\/1817\/4257\/products\/72012D.jpg?v=1612555230","width":2048},{"alt":null,"id":8025868795949,"position":3,"preview_image":{"aspect_ratio":1.333,"height":360,"width":480,"src":"https:\/\/cdn.shopify.com\/s\/files\/1\/1817\/4257\/products\/hqdefault_a0addac1-8738-4136-85b1-d11db5ff38e2.jpg?v=1586201626"},"aspect_ratio":1.778,"external_id":"UgpLIzkxdR4","host":"youtube","media_type":"external_video"},{"alt":"Elevate 72012 Unfinished TV Lift Cabinet for 50\" Flat screen TVs - Touchstone Home Products, Inc.","id":623922577453,"position":4,"preview_image":{"aspect_ratio":1.0,"height":3072,"width":3072,"src":"https:\/\/cdn.shopify.com\/s\/files\/1\/1817\/4257\/products\/72012H.jpg?v=1612555230"},"aspect_ratio":1.0,"height":3072,"media_type":"image","src":"https:\/\/cdn.shopify.com\/s\/files\/1\/1817\/4257\/products\/72012H.jpg?v=1612555230","width":3072},{"alt":"Elevate 72012 Unfinished TV Lift Cabinet for 50\" Flat screen TVs - Touchstone Home Products, Inc.","id":2387860881453,"position":5,"preview_image":{"aspect_ratio":1.0,"height":600,"width":600,"src":"https:\/\/cdn.shopify.com\/s\/files\/1\/1817\/4257\/products\/72012-3_grande_a605d0a2-f854-4700-a8f3-384416a30f90.jpg?v=1612555230"},"aspect_ratio":1.0,"height":600,"media_type":"image","src":"https:\/\/cdn.shopify.com\/s\/files\/1\/1817\/4257\/products\/72012-3_grande_a605d0a2-f854-4700-a8f3-384416a30f90.jpg?v=1612555230","width":600},{"alt":"Elevate 72012 Unfinished TV Lift Cabinet for 50\" Flat screen TVs - Touchstone Home Products, Inc.","id":617834545197,"position":6,"preview_image":{"aspect_ratio":1.0,"height":2048,"width":2048,"src":"https:\/\/cdn.shopify.com\/s\/files\/1\/1817\/4257\/products\/72012K.jpg?v=1612555230"},"aspect_ratio":1.0,"height":2048,"media_type":"image","src":"https:\/\/cdn.shopify.com\/s\/files\/1\/1817\/4257\/products\/72012K.jpg?v=1612555230","width":2048},{"alt":"Elevate 72012 Unfinished TV Lift Cabinet for 50\" Flat screen TVs - Touchstone Home Products, Inc.","id":617834610733,"position":7,"preview_image":{"aspect_ratio":1.0,"height":2048,"width":2048,"src":"https:\/\/cdn.shopify.com\/s\/files\/1\/1817\/4257\/products\/72012J.jpg?v=1612555230"},"aspect_ratio":1.0,"height":2048,"media_type":"image","src":"https:\/\/cdn.shopify.com\/s\/files\/1\/1817\/4257\/products\/72012J.jpg?v=1612555230","width":2048},{"alt":"Elevate 72012 Unfinished TV Lift Cabinet for 50\" Flat screen TVs - Touchstone Home Products, Inc.","id":617834709037,"position":8,"preview_image":{"aspect_ratio":1.0,"height":2048,"width":2048,"src":"https:\/\/cdn.shopify.com\/s\/files\/1\/1817\/4257\/products\/72012G.jpg?v=1612555230"},"aspect_ratio":1.0,"height":2048,"media_type":"image","src":"https:\/\/cdn.shopify.com\/s\/files\/1\/1817\/4257\/products\/72012G.jpg?v=1612555230","width":2048},{"alt":"Elevate 72012 Unfinished TV Lift Cabinet for 50\" Flat screen TVs - Touchstone Home Products, Inc.","id":617834840109,"position":9,"preview_image":{"aspect_ratio":1.0,"height":2048,"width":2048,"src":"https:\/\/cdn.shopify.com\/s\/files\/1\/1817\/4257\/products\/72012F.jpg?v=1612555230"},"aspect_ratio":1.0,"height":2048,"media_type":"image","src":"https:\/\/cdn.shopify.com\/s\/files\/1\/1817\/4257\/products\/72012F.jpg?v=1612555230","width":2048},{"alt":"Elevate 72012 Unfinished TV Lift Cabinet for 50\" Flat screen TVs - Touchstone Home Products, Inc.","id":623923363885,"position":10,"preview_image":{"aspect_ratio":1.0,"height":3072,"width":3072,"src":"https:\/\/cdn.shopify.com\/s\/files\/1\/1817\/4257\/products\/72012D_f2af03f9-65cd-4b45-ba34-fccb4c73c4e5.jpg?v=1612555230"},"aspect_ratio":1.0,"height":3072,"media_type":"image","src":"https:\/\/cdn.shopify.com\/s\/files\/1\/1817\/4257\/products\/72012D_f2af03f9-65cd-4b45-ba34-fccb4c73c4e5.jpg?v=1612555230","width":3072},{"alt":"Elevate 72012 Unfinished TV Lift Cabinet for 50\" Flat screen TVs - Touchstone Home Products, Inc.","id":623922610221,"position":11,"preview_image":{"aspect_ratio":1.0,"height":3072,"width":3072,"src":"https:\/\/cdn.shopify.com\/s\/files\/1\/1817\/4257\/products\/72012E.jpg?v=1612555230"},"aspect_ratio":1.0,"height":3072,"media_type":"image","src":"https:\/\/cdn.shopify.com\/s\/files\/1\/1817\/4257\/products\/72012E.jpg?v=1612555230","width":3072}],"requires_selling_plan":false,"selling_plan_groups":[],"content":"\u003ch4\u003eOverview\u003c\/h4\u003e\n\u003ch3\u003eProduct Highlights\u003c\/h3\u003e\n\u003cul\u003e\n\u003cli\u003e\u003cstrong\u003eFits up to 50" TVs (45" wide left to right)\u003c\/strong\u003e\u003c\/li\u003e\n\u003cli\u003e\u003cstrong\u003eBeautiful unfinished birch cabinet, ready to be painted\u003c\/strong\u003e\u003c\/li\u003e\n\u003cli\u003e\u003cstrong\u003eSame paneling on both sides for versatile placement in the room, including end of bed use\u003c\/strong\u003e\u003c\/li\u003e\n\u003cli\u003e\u003cstrong\u003eTransitional cabinet design that fits seamlessly with existing furniture\u003c\/strong\u003e\u003c\/li\u003e\n\u003cli\u003e\u003cstrong\u003eCompatible with the add-on component shelf to store electronics\u003c\/strong\u003e\u003c\/li\u003e\n\u003cli\u003e\u003cstrong\u003eQuiet and reliable Whisper Lift II which includes a 5-year warranty\u003c\/strong\u003e\u003c\/li\u003e\n\u003c\/ul\u003e\n\u003cul\u003e\u003c\/ul\u003e\n\u003ch3\u003eOverview\u003c\/h3\u003e\n\u003cp\u003eThe Elevate\u003cspan\u003e®\u003c\/span\u003e pop up TV lift cabinet with unfinished wood gives you the freedom to customize the wood color to match your decor. Inside the cabinet, Touchstone's industry-leading Whisper Lift\u003cspan\u003e®\u003c\/span\u003e II motorized TV lift raises and lowers your TV on demand.\u003c\/p\u003e\n\u003ch3\u003eChoose Your Finish\u003c\/h3\u003e\n\u003cp\u003eChoose an unfinished Elevate\u003cspan\u003e®\u003c\/span\u003e TV lift cabinet and paint the cabinet yourself.\u003c\/p\u003e\n\u003cp\u003e\u003cb\u003e\u003cem\u003eDISCLAIMER\u003c\/em\u003e\u003c\/b\u003e: Paints are applied to enhance the natural beauty of the wood. Due to individual characteristics of wood, colors may vary.\u003c\/p\u003e\n\u003ch3\u003eCustomizable, Space-Saving Versatility\u003c\/h3\u003e\n\u003cp\u003eThe Elevate\u003cspan\u003e®\u003c\/span\u003e unfinished TV lift cabinet is the perfect solution for those who have small spaces and hard to match interior color schemes. Whether you're the do it yourself type or need a special custom finish to match your decor, The Elevate\u003cspan\u003e®\u003c\/span\u003e is the ideal choice. Stylish yet affordable, The Elevate\u003cspan\u003e®\u003c\/span\u003e TV Lift Cabinet features Touchstone's patented TV lift technology that fully cycles up or down in less than 30 seconds with the push of a button.\u003c\/p\u003e\n\u003cp\u003eThe Elevate\u003cspan\u003e®\u003c\/span\u003e by Touchstone will accommodate flat screen televisions up to 45 wide\". Easily conceal your video cables inside The Elevate\u003cspan\u003e®\u003c\/span\u003e by feeding them through the bottom of the cabinet and hiding them from sight. Electronic components can be easily stored on our add-on component shelf or tucked away inside at the bottom of the cabinet where you have 17 1\/2\" W x 12 5\/8\" D of area on the left and right sides of the TV lift cabinet.\u003c\/p\u003e\n\u003ch3\u003eOptional Component Shelf Available\u003c\/h3\u003e\n\u003cp\u003eYou can also upgrade the The Elevate\u003cspan\u003e®\u003c\/span\u003e with our \u003ca href=\"https:\/\/www.touchstonehomeproducts.com\/products\/whisper-lift-add-on-component-shelf?variant=35397483521\"\u003eAdd-On Component Shelf\u003c\/a\u003e to store your cable box, video game system, DVD player, and other components for just $79 when your add it to your cabinet purchase (Shelf is $89 when purchased as a standalone purchase). The add-on component shelf attaches to the TV lift system directly below the flat screen TV and raises or lowers into the cabinet along with your TV when remotely activated. The shelf provides an area of 16\" W x 9\" D on both the left and right side to fit a wide variety of multimedia components. You can also add an optional \u003ca href=\"https:\/\/www.touchstonehomeproducts.com\/products\/ir-repeater-kit?variant=35397504833\"\u003eIR Repeater Kit\u003c\/a\u003e.\u003c\/p\u003e\n\u003ch3\u003e\u003c\/h3\u003e\n\u003ch3\u003eIncludes Our Top Rated Motorized TV Lift\u003c\/h3\u003e\n\u003cp class=\"p1\"\u003e\u003cspan class=\"s1\"\u003eIncluded in The Elevate\u003cspan\u003e®\u003c\/span\u003e Unfinished Cabinet is Touchstone's Whisper Lift II TV Lift, which fully raises or lowers your flat screen TV in less than 30 seconds, and reaches an extended height of 65.5\". Installation is quick and easy, and we provide step by step instructions, as well as phone and online support, to help you get set up in just minutes. \u003c\/span\u003e\u003c\/p\u003e\n\u003ch3\u003eProduct Features\u003c\/h3\u003e\n\u003cul\u003e\n\u003cli\u003eFully raises or lowers in less than 30 seconds\u003c\/li\u003e\n\u003cli\u003eInside component space of 17 1\/2\" W x 12 5\/8\" D on left and right side bottom of the cabinet. Measurements must include cords \u0026amp; plugs.\u003c\/li\u003e\n\u003cli\u003eOptional Add-on component shelf provides 16\" W x 9\" D on both the left and right side\u003c\/li\u003e\n\u003cli\u003eIncludes wireless remote control\u003c\/li\u003e\n\u003cli\u003eTV Lift system fully extended reaches 68.5\"\u003c\/li\u003e\n\u003cli\u003eTV Lift system fully depressed measures 32.5\" H x 10\" W x 7.5\" D\u003c\/li\u003e\n\u003cli\u003ePop out front cabinet panel provides easy access to lift and electronics inside the cabinet.\u003c\/li\u003e\n\u003c\/ul\u003e\n\u003ch4\u003eSpecifications\u003c\/h4\u003e\n\u003ch3\u003eSpecifications\u003c\/h3\u003e\n\u003cul\u003e\n\u003cli\u003e\n\u003cb\u003eColor Finish:\u003c\/b\u003e Unfinished\u003c\/li\u003e\n\u003cli\u003e\n\u003cb\u003eUnit Dimensions:\u003c\/b\u003e 49.5\" W x 18\" D x 35.62\" H\u003c\/li\u003e\n\u003cli\u003e\n\u003cb\u003eMaximum TV Size w Whisper Lift II:\u003c\/b\u003e 45\" W x 5\" D x 32.5\" H (TV plus component height)\u003c\/li\u003e\n\u003cli\u003e\n\u003cstrong\u003eMaximum Cabinet TV Size w Whisper Lift II PRO Swivel:\u003c\/strong\u003e\u003cspan\u003e 4\u003c\/span\u003e5\"W x 4\"D\u003cspan\u003e \u003c\/span\u003ex 32.5\"H (TV plus components)\u003c\/li\u003e\n\u003cli\u003e\n\u003cb\u003eMaximum TV weight (without stand): \u003c\/b\u003e 100 lb.\u003c\/li\u003e\n\u003cli\u003e\n\u003cb\u003eCabinet weight with lift:\u003c\/b\u003e 170 lb.\u003c\/li\u003e\n\u003cli\u003e\n\u003cb\u003eTotal shipping weight:\u003c\/b\u003e 260 lb.\u003c\/li\u003e\n\u003cli\u003e\n\u003cb\u003eUnit shipping dimensions:\u003c\/b\u003e 55\" W x 46\" D x 34\" H (on pallet)\u003c\/li\u003e\n\u003cli\u003e\n\u003cb\u003eInterior component space:\u003c\/b\u003e 17 1\/2\" W x 12 5\/8\" D on left \u0026amp; right side bottom of cabinet (measurements must include cords \u0026amp; plugs)\u003c\/li\u003e\n\u003c\/ul\u003e\n\u003cstrong\u003e\u003ca href=\"https:\/\/cdn.shopify.com\/s\/files\/1\/1817\/4257\/files\/72012-Man.pdf?8645176910585047639\" target=\"_blank\"\u003eElevate\u003cspan\u003e®\u003c\/span\u003e Unfinished TV Lift Cabinet Owners Manual\u003c\/a\u003e\u003c\/strong\u003e\u003cbr\u003e\n\u003ch4\u003eDelivery \u0026amp; Shipping\u003c\/h4\u003e\n\u003ch3\u003eDelivery \u0026amp; Shipping\u003c\/h3\u003e\n\u003cp\u003eHere at Touchstone\u003cspan\u003e™\u003c\/span\u003e, we know how difficult it can be to find the perfect piece of furniture for your home and we appreciate you including us in that process. We want to make your experience with Touchstone Home Products\u003cspan\u003e™\u003c\/span\u003e as pleasant and painless as possible.\u003c\/p\u003e\n\u003ch5\u003e\u003cstrong\u003eDELIVERY OPTIONS – FULL SIZE, MID-SIZE, FIREPLACE CABINETS AND GRAND ELEVATE\u003cspan\u003e®\u003c\/span\u003e CABINETS\u003c\/strong\u003e\u003c\/h5\u003e\n\u003ch3\u003e\n\u003cstrong\u003eLTL-Curbside Delivery\u003c\/strong\u003e (Included):\u003c\/h3\u003e\n\u003cul\u003e\n\u003cli\u003eOur LTL-Curbside Delivery Service is included in the price of all cabinets and includes the following:\u003c\/li\u003e\n\u003cli\u003eLift-gate delivery to curbside at your home or place of business.\u003c\/li\u003e\n\u003cli\u003eItem will be left in its original packaging.\u003c\/li\u003e\n\u003cli\u003eThe customer is responsible for unpacking cabinet and bringing cabinet into the home.\u003c\/li\u003e\n\u003c\/ul\u003e\n\u003ch5\u003e\u003cbr\u003e\u003c\/h5\u003e\n\u003cul\u003e\u003c\/ul\u003e\n\u003ch5\u003e\n\u003cstrong\u003e\u003cem\u003e\u003c\/em\u003e\u003c\/strong\u003e\u003cstrong\u003eDELIVERY NOTES:\u003c\/strong\u003e\n\u003c\/h5\u003e\n\u003cul\u003e\n\u003cli\u003eAfter your order has shipped, a representative from the shipping company will contact you to schedule delivery of your Touchstone\u003cspan\u003e™\u003c\/span\u003e TV Lift Cabinet. The carrier will provide a date and 4-hour window for delivery.\u003c\/li\u003e\n\u003cli\u003eTV and component installation is not part of the delivery. This is the responsibility of the customer.\u003c\/li\u003e\n\u003c\/ul\u003e\n\u003ch3\u003eShopping in Canada?\u003c\/h3\u003e\n\u003cp\u003e\u003cspan\u003eFor customers shopping in Canada, \u003c\/span\u003e\u003ca href=\"https:\/\/touchstonehomeproducts.myshopify.com\/pages\/shipping-to-canada\" target=\"_blank\"\u003eplease click here\u003c\/a\u003e\u003cspan\u003e for more information about delivery into Canada.\u003c\/span\u003e\u003c\/p\u003e\n\u003ch3\u003eReturn Policy\u003c\/h3\u003e\n\u003cp\u003eFor more information regarding our return policy, \u003ca href=\"https:\/\/www.touchstonehomeproducts.com\/pages\/return-policy\" onclick=\"window.open(this.href, 'mywin', 'left=20,top=20,width=700,height=700,toolbar=0,resizable=1'); return false;\"\u003eplease click here.\u003c\/a\u003e\u003c\/p\u003e\n\u003ch4\u003eWarranty\u003c\/h4\u003e\n\u003ch3\u003eProduct Protection\u003c\/h3\u003e\n\u003cp\u003e\u003cspan class=\"aboutUsOrange\"\u003e\u003cb\u003eINCLUDED IN STANDARD 2-YEAR WARRANTY \u003cem\u003e(INCLUDED WITH CABINET PURCHASE)\u003c\/em\u003e:\u003c\/b\u003e\u003c\/span\u003e\u003c\/p\u003e\n\u003cul\u003e\n\u003cli\u003eReplacement of any non-functioning electronic parts\u003c\/li\u003e\n\u003cli\u003eReplacement of any non-functioning lift parts\u003c\/li\u003e\n\u003cli\u003eFree Toll Free tech support \u003cspan data-mce-fragment=\"1\"\u003e(800-215-1990)\u003c\/span\u003e\n\u003c\/li\u003e\n\u003cli\u003eCoverage of InfraRed repeaters\u003c\/li\u003e\n\u003c\/ul\u003e\n\u003cp\u003e\u003cbr\u003e\u003c\/p\u003e\n\u003cul\u003e\u003c\/ul\u003e\n\u003ch4\u003eReviews\u003c\/h4\u003e\n\u003ch4\u003eVideo\u003c\/h4\u003e\n\u003cp\u003eThis video of the Elevate TV Lift Cabinet displays displays the cabinets features in detail. Available in an \u003ca href=\"https:\/\/www.touchstonehomeproducts.com\/products\/elevate-72008-tv-lift-cabinet-for-50-flat-screen-tvs?variant=347958771713\" target=\"_blank\"\u003eEspresso\u003c\/a\u003e, \u003ca href=\"https:\/\/www.touchstonehomeproducts.com\/products\/the-elevate-in-rich-black-touchstones-value-priced-wood-tv-lift-cabinet?variant=35397017537\" target=\"_blank\"\u003eBlack\u003c\/a\u003e, \u003ca href=\"https:\/\/www.touchstonehomeproducts.com\/products\/the-elevate-in-honey-oak-touchstones-value-priced-wood-tv-cabinet?variant=35397004289\" target=\"_blank\"\u003eHoney Oak\u003c\/a\u003e, Unfinished and \u003ca href=\"https:\/\/www.touchstonehomeproducts.com\/products\/the-elevate-vintage-trunk-touchstones-leather-wrapped-tv-lift-cabinet?variant=35396956545\" target=\"_blank\"\u003eVintage Leather\u003c\/a\u003e finish. Manufactured in two widths to fit your TV. Elevate fits up to 50 inch flat screen televisions and Grand Elevate fits up to 65 inch flat screen televisions.\u003c\/p\u003e\n\u003cdiv style=\"text-align: center;\"\u003e\u003ciframe width=\"560\" height=\"315\" src=\"https:\/\/www.youtube-nocookie.com\/embed\/a4RTWuPfwsQ?rel=0\" frameborder=\"0\" allow=\"autoplay; encrypted-media\" allowfullscreen=\"\"\u003e\u003c\/iframe\u003e\u003c\/div\u003e\n\u003cdiv style=\"text-align: center;\"\u003e\u003c\/div\u003e\n\u003cdiv style=\"text-align: left;\"\u003e\u003cspan\u003e\u003c\/span\u003e\u003c\/div\u003e\n\u003cdiv style=\"text-align: left;\"\u003e\u003cspan\u003e\u003c\/span\u003e\u003c\/div\u003e\n\u003cdiv style=\"text-align: left;\"\u003e\u003cspan\u003e\u003c\/span\u003e\u003c\/div\u003e\n\u003cdiv style=\"text-align: left;\"\u003e\u003cspan\u003e\u003c\/span\u003e\u003c\/div\u003e\n\u003cp style=\"text-align: center;\"\u003e\u003cbr\u003e \u003ciframe width=\"560\" height=\"315\" src=\"https:\/\/www.youtube.com\/embed\/UgpLIzkxdR4?rel=0\" frameborder=\"0\" allow=\"autoplay; encrypted-media\" allowfullscreen=\"\"\u003e\u003c\/iframe\u003e\u003c\/p\u003e\n\u003cp\u003e \u003c\/p\u003e\n\u003cdiv style=\"text-align: left;\"\u003e\u003cspan\u003eThis is a quick walk through on how easy it is to install our Whisper Lift II or Whisper Lift II Pro into our Elevate® line of cabinets.  \u003c\/span\u003e\u003c\/div\u003e\n\u003cbr\u003e\n\u003cdiv style=\"text-align: left;\"\u003e\u003cspan\u003e\u003c\/span\u003e\u003c\/div\u003e\n\u003cdiv style=\"text-align: left;\"\u003e\u003cspan\u003e\u003c\/span\u003e\u003c\/div\u003e\n\u003cdiv style=\"text-align: left;\"\u003e\n\u003cp style=\"text-align: center;\"\u003e\u003ciframe src=\"https:\/\/www.youtube.com\/embed\/V4XHxPIx5xI\" width=\"560\" height=\"315\" allowfullscreen=\"\" frameborder=\"0\"\u003e\u003c\/iframe\u003e\u003c\/p\u003e\n\u003c\/div\u003e\n\u003cdiv style=\"text-align: left;\"\u003e\u003cspan\u003e\u003c\/span\u003e\u003c\/div\u003e\n\u003cdiv style=\"text-align: center;\"\u003e\u003c\/div\u003e"}
The Elevate 72012 Unfinished TV Lift Cabinet for 50" Flat screen TVs
The Elevate 72012 Unfinished TV Lift Cabinet for 50" Flat screen TVs
Product Highlights
Fits up to 50" TVs (45" wide left to right)
Beautiful unfinished birch cabinet, ready to be painted
Same paneling on both sides for versatile placement in the room, including end of bed use
Transitional cabinet design that fits seamlessly with existing furniture
Compatible with the add-on component shelf to store electronics
Quiet and reliable Whisper Lift II which includes a 5-year warranty
Overview
The Elevate® pop up TV lift cabinet with unfinished wood gives you the freedom to customize the wood color to match your decor. Inside the cabinet, Touchstone's industry-leading Whisper Lift® II motorized TV lift raises and lowers your TV on demand.
Choose Your Finish
Choose an unfinished Elevate® TV lift cabinet and paint the cabinet yourself.
DISCLAIMER: Paints are applied to enhance the natural beauty of the wood. Due to individual characteristics of wood, colors may vary.
Customizable, Space-Saving Versatility
The Elevate® unfinished TV lift cabinet is the perfect solution for those who have small spaces and hard to match interior color schemes. Whether you're the do it yourself type or need a special custom finish to match your decor, The Elevate® is the ideal choice. Stylish yet affordable, The Elevate® TV Lift Cabinet features Touchstone's patented TV lift technology that fully cycles up or down in less than 30 seconds with the push of a button.
The Elevate® by Touchstone will accommodate flat screen televisions up to 45 wide". Easily conceal your video cables inside The Elevate® by feeding them through the bottom of the cabinet and hiding them from sight. Electronic components can be easily stored on our add-on component shelf or tucked away inside at the bottom of the cabinet where you have 17 1/2" W x 12 5/8" D of area on the left and right sides of the TV lift cabinet.
Optional Component Shelf Available
You can also upgrade the The Elevate® with our Add-On Component Shelf to store your cable box, video game system, DVD player, and other components for just $79 when your add it to your cabinet purchase (Shelf is $89 when purchased as a standalone purchase). The add-on component shelf attaches to the TV lift system directly below the flat screen TV and raises or lowers into the cabinet along with your TV when remotely activated. The shelf provides an area of 16" W x 9" D on both the left and right side to fit a wide variety of multimedia components. You can also add an optional IR Repeater Kit.
Includes Our Top Rated Motorized TV Lift
Included in The Elevate® Unfinished Cabinet is Touchstone's Whisper Lift II TV Lift, which fully raises or lowers your flat screen TV in less than 30 seconds, and reaches an extended height of 65.5". Installation is quick and easy, and we provide step by step instructions, as well as phone and online support, to help you get set up in just minutes.
Product Features
Fully raises or lowers in less than 30 seconds
Inside component space of 17 1/2" W x 12 5/8" D on left and right side bottom of the cabinet. Measurements must include cords & plugs.
Optional Add-on component shelf provides 16" W x 9" D on both the left and right side
Includes wireless remote control
TV Lift system fully extended reaches 68.5"
TV Lift system fully depressed measures 32.5" H x 10" W x 7.5" D
Pop out front cabinet panel provides easy access to lift and electronics inside the cabinet.
Specifications
Color Finish: Unfinished
Unit Dimensions: 49.5" W x 18" D x 35.62" H
Maximum TV Size w Whisper Lift II: 45" W x 5" D x 32.5" H (TV plus component height)
Maximum Cabinet TV Size w Whisper Lift II PRO Swivel:

 4

5"W x 4"D

 

x 32.5"H (TV plus components)
Maximum TV weight (without stand): 100 lb.
Cabinet weight with lift: 170 lb.
Total shipping weight: 260 lb.
Unit shipping dimensions: 55" W x 46" D x 34" H (on pallet)
Interior component space: 17 1/2" W x 12 5/8" D on left & right side bottom of cabinet (measurements must include cords & plugs)
Elevate

®

Unfinished TV Lift Cabinet Owners Manual
Delivery & Shipping
Here at Touchstone™, we know how difficult it can be to find the perfect piece of furniture for your home and we appreciate you including us in that process. We want to make your experience with Touchstone Home Products™ as pleasant and painless as possible.
DELIVERY OPTIONS – FULL SIZE, MID-SIZE, FIREPLACE CABINETS AND GRAND ELEVATE

®

CABINETS
LTL-Curbside Delivery (Included):
Our LTL-Curbside Delivery Service is included in the price of all cabinets and includes the following:
Lift-gate delivery to curbside at your home or place of business.
Item will be left in its original packaging.
The customer is responsible for unpacking cabinet and bringing cabinet into the home.


DELIVERY NOTES:
After your order has shipped, a representative from the shipping company will contact you to schedule delivery of your Touchstone

™

TV Lift Cabinet. The carrier will provide a date and 4-hour window for delivery.
TV and component installation is not part of the delivery. This is the responsibility of the customer.
Shopping in Canada?
For customers shopping in Canada, please click here for more information about delivery into Canada.
Return Policy
For more information regarding our return policy, please click here.
Product Protection
INCLUDED IN STANDARD 2-YEAR WARRANTY (INCLUDED WITH CABINET PURCHASE):
Replacement of any non-functioning electronic parts
Replacement of any non-functioning lift parts
Free Toll Free tech support 

(800-215-1990)

Coverage of InfraRed repeaters
This video of the Elevate TV Lift Cabinet displays displays the cabinets features in detail. Available in an Espresso, Black, Honey Oak, Unfinished and Vintage Leather finish. Manufactured in two widths to fit your TV. Elevate fits up to 50 inch flat screen televisions and Grand Elevate fits up to 65 inch flat screen televisions.
This is a quick walk through on how easy it is to install our Whisper Lift II or Whisper Lift II Pro into our Elevate® line of cabinets.  
Customer Reviews
Write a Review
Ask a Question
12/28/2021
Christopher O.

United States
Beautiful work of Art
I purchased the unfinished version cabinet so I can get it the color I wanted it to be. They say it's "ready to paint" but don't believe it. I stained it at first, but there were spots that clearly needed to be sanded down. I didn't like the way the stain turned out so I ended up painting it. That's my only issue. But still 10/10 and would absolutely recommend.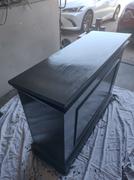 04/17/2021
Sylese Y.

United States
Great Product
I received my lift cabinet and I must say that I'm very impressed with the quality. It's very well made. Customer service is top notched as well. Go ahead and order your new tv lift. You will not be disappointed.
Great Product
I receive my lift cabinet and I must say that I'm very impressed with the quality. It's very well made. Customer service is top notched as well. Go ahead and order your new tv lift. You will not be disappointed.