{"id":9661512321,"title":"Sideline 50 80004 50\" Recessed Electric Fireplace","handle":"the-sideline-50-touchstones-recessed-electric-fireplace-with-heat-in-black","description":"\u003ch4\u003eOverview\u003c\/h4\u003e\n\u003ch3\u003eProduct Highlights\u003c\/h3\u003e\n\u003cul\u003e\n\u003cli\u003e\u003cstrong\u003eDesigned with front heating vent so that the unit can be flush mounted into wall\u003c\/strong\u003e\u003c\/li\u003e\n\u003cli\u003e\u003cstrong\u003eIncludes log set and crystal set\u003c\/strong\u003e\u003c\/li\u003e\n\u003cli\u003e\u003cstrong\u003eSlim frame that features a large fireplace viewing area with life-like LED flames that are unrivaled by competitors\u003c\/strong\u003e\u003c\/li\u003e\n\u003cli\u003e\u003cstrong\u003eHeats up to 400 square feet (5,000 BTUs)\u003c\/strong\u003e\u003c\/li\u003e\n\u003cli\u003e\u003cstrong\u003eCan be plugged in or hardwired 120V\u003c\/strong\u003e\u003c\/li\u003e\n\u003cli\u003e\u003cb\u003eMore Sideline sizes available.\u003cspan\u003e \u003c\/span\u003e\u003ca title=\"Sideline Electric Fireplace Collection\" href=\"https:\/\/www.touchstonehomeproducts.com\/collections\/sideline-recessed-electric-fireplaces\"\u003eShop the Sideline Collection\u003c\/a\u003e. \u003c\/b\u003e\u003c\/li\u003e\n\u003c\/ul\u003e\n\u003cul\u003e\u003c\/ul\u003e\n\u003ch3\u003eOverview\u003c\/h3\u003e\n\u003cp\u003eThe Touchstone Sideline\u003cspan\u003e®\u003c\/span\u003e 50 Electric Fireplace was designed to meet the needs of contractors and do-it-yourself installers, who are looking for the beauty of a Touchstone\u003cspan\u003e™\u003c\/span\u003e fireplace mounted flush to a wall. We received so many calls from installers and contractors looking to mount our popular Onyx on their wall. For all its great benefits, the Onyx's top-placed heat element makes flush mounting impossible.\u003c\/p\u003e\n\u003cp\u003eSo here you have the Sideline\u003cspan\u003e®\u003c\/span\u003e 50, a 50\" wide, electric fireplace with the same realistic flames and contemporary black frame of the Onyx, but with a heating element that is placed in front of the frame. The Sideline\u003cspan\u003e®\u003c\/span\u003e 50 delivers the beauty of a fireplace without the fire and smokey smell. The Sideline\u003cspan\u003e®\u003c\/span\u003e 50 has 2 heat settings (high and low) and will heat a room up to 400 sq. ft. Also, the fireplace's flame can be used without the heating feature. The Sideline\u003cspan\u003e®\u003c\/span\u003e 50 is easy to install and comes with simple and understandable instructions.\u003c\/p\u003e\n\u003ch3\u003eRealistic Flame\u003c\/h3\u003e\n\u003cp\u003eThe heart of Touchstone's electric fireplaces is the flame itself. We tell our customers the flame will transcend your expectations, and they will not fail to impress. The flames deliver the same relaxing effect of real flames, without the smell or mess, and they look great in any room of the house. With the 5 settings offered by the Sideline\u003cspan\u003e®\u003c\/span\u003e 50, ranging from a dim glow to a full fire blaze, you have the power to adjust the flame intensity based on your desired mood or lighting of the room with the control features on your unit's remote. \u003ca href=\"http:\/\/www.touchstonehomeproducts.com\/why-buy-an-electric-fireplace.html\"\u003eRead more\u003c\/a\u003e about the benefits of electric fireplaces.\u003c\/p\u003e\n\u003ch3\u003eMultiple flame colors\u003c\/h3\u003e\n\u003cp\u003eTo create the cozy atmosphere of a traditional fireplace, this electronic unit emits authentic-looking flames that emulate a real fire. The flames that Touchstone Home Products\u003cspan\u003e™\u003c\/span\u003e fireplaces create are natural enough to have friends and family think you own a traditional wood burning fireplace.\u003cbr\u003eThis fireplace has three color-changing options (orange, blue, and blue-orange), along with five settings, from a soft ember glow or an intense blaze. The lighting and heating options of this fireplace offer you the ability to customize your atmosphere to your liking. With both its look and performance, Sideline\u003cspan\u003e®\u003c\/span\u003e gives you the total package. Both the heat and flame settings can be operated through a remote control. (Batteries not included)\u003c\/p\u003e\n\u003ch3\u003eNow Comes With Both Faux Log and Glass Crystals -\u003cbr\u003e\u003ci\u003eExclusive to All Touchstone Sideline Series Fireplaces\u003c\/i\u003e\n\u003c\/h3\u003e\n\u003cp\u003eAll Sideline\u003cspan\u003e®\u003c\/span\u003e Series Fireplaces now come with \u003cstrong\u003eboth\u003c\/strong\u003e glass crystals and a faux log set. For a contemporary feel, install the glass crystals in your Sideline\u003cspan\u003e®\u003c\/span\u003e Series Fireplace. For a more traditional look, install the faux log set in your Sideline\u003cspan\u003e®\u003c\/span\u003e Series Fireplace. The Sideline\u003cspan\u003e®\u003c\/span\u003e Series Fireplace ships with both options, so you can choose the look that is right for you.\u003c\/p\u003e\n\u003ch3\u003eYes, it does heat your room\u003c\/h3\u003e\n\u003cp\u003eWhat makes the Sideline\u003cspan\u003e®\u003c\/span\u003e 50 unique is its heating capabilities. It allows you to recess your electric fireplace into the wall while also providing heat through the vent in the front of the unit. The Sideline\u003cspan\u003e®\u003c\/span\u003e 50 offers two heat settings which quickly add heat to a room up to 400 sq. ft. Please note the heater isn't designed to be the primary heat source in your room or home. It's designed to warm up a cool evening, or bring the temperature of a room up a few degrees. The visual appeal and heat emitted by your electric fireplace place in addition to your home's primary heating source will provide your room with a cozy and calming aura. Your electric fireplace's heat settings can be controlled using the remote or the controls on the front of the unit, and you also have the option of controlling the heat by setting up the Sideline\u003cspan\u003e®\u003c\/span\u003e 50's built-in heat timer.\u003c\/p\u003e\n\u003ch3\u003eMounting and Use\u003c\/h3\u003e\n\u003cp\u003e\u003cspan\u003eThe versatile Sideline® 50 electric fireplace offers two installation options. Although it is essentially designed for insertion in your wall, it can also be mounted on your wall. Instructions for mounting and install come with the fireplace, and we recommend you follow the simple instructions provided. We recommend placing your Sideline® 50 at least 20" below your ceiling or 12" below your mounted flat screen TV because of its heating feature.\u003c\/span\u003e\u003c\/p\u003e\n\u003cp\u003eFor more information regarding installation of the Sideline\u003cspan\u003e®\u003c\/span\u003e Electric Fireplace, \u003ca href=\"https:\/\/youtu.be\/-_V43s4-ANM\"\u003eclick here to watch the video\u003c\/a\u003e.\u003c\/p\u003e\n\u003ch3\u003eProduct Features\u003c\/h3\u003e\n\u003cul\u003e\n\u003cli\u003e2 heat settings (high and low)\u003c\/li\u003e\n\u003cli\u003eDesigned for recessed mounting in wall\u003c\/li\u003e\n\u003cli\u003eRemote control for heat and flame setting (batteries not included)\u003c\/li\u003e\n\u003cli\u003eDual mode operates with or without heat for only flame effect\u003c\/li\u003e\n\u003cli\u003eBuilt-in timer mode for shut off in 30 minutes to 7.5 hours.\u003c\/li\u003e\n\u003cli\u003eIf mounting under a wall mounted flat panel TV, mount fireplace at least 12 inches below the bottom of the TV.\u003c\/li\u003e\n\u003c\/ul\u003e\n\u003ch3\u003e\u003c\/h3\u003e\n\u003ch3\u003eSideline® Electric Fireplace Collection\u003c\/h3\u003e\n\u003cp\u003eThe Sideline product line comes in a variety of widths to fit just about any space. You may also like:\u003c\/p\u003e\n\u003cp\u003e\u003ca title=\"Sideline 36\" href=\"https:\/\/www.touchstonehomeproducts.com\/collections\/sideline-recessed-electric-fireplaces\/products\/the-sideline-36-touchstones-36-inch-recessed-electric-fireplace-with-heat-in-black?variant=35397366081\"\u003e36-inch Sideline 36\u003c\/a\u003e\u003c\/p\u003e\n\u003cp\u003e\u003ca title=\"Sideline 40\" href=\"https:\/\/www.touchstonehomeproducts.com\/collections\/sideline-recessed-electric-fireplaces\/products\/sideline40-80027-40-recessed-electric-fireplace?variant=36824516481\"\u003e40-inch Sideline 40\u003c\/a\u003e\u003c\/p\u003e\n\u003cp\u003e\u003ca title=\"Sideline 45\" href=\"https:\/\/www.touchstonehomeproducts.com\/collections\/sideline-recessed-electric-fireplaces\/products\/sideline45-80025-45-recessed-electric-fireplace?variant=37600846529\"\u003e45-inch Sideline 45\u003c\/a\u003e\u003c\/p\u003e\n\u003cp\u003e\u003ca title=\"Sideline 60\" href=\"https:\/\/www.touchstonehomeproducts.com\/collections\/sideline-recessed-electric-fireplaces\/products\/the-sideline-60-touchstones-60-inch-recessed-electric-fireplace-with-heat-in-black?variant=35397351489\"\u003e60-inch Sideline 60\u003c\/a\u003e\u003c\/p\u003e\n\u003cp\u003e\u003ca title=\"Sideline 72\" href=\"https:\/\/www.touchstonehomeproducts.com\/collections\/sideline-recessed-electric-fireplaces\/products\/the-sideline-72-touchstones-72-inch-recessed-electric-fireplace-with-heat-in-black?variant=35397368769\"\u003e72-inch Sideline 72\u003c\/a\u003e\u003c\/p\u003e\n\u003cp\u003e\u003ca title=\"Sideline 100\" href=\"https:\/\/www.touchstonehomeproducts.com\/collections\/sideline-recessed-electric-fireplaces\/products\/sideline-100-80032-100-recessed-electric-fireplace?variant=501296136193\"\u003e100-inch Sideline 100\u003c\/a\u003e\u003c\/p\u003e\n\u003cp\u003e\u003ca title=\"Sideline Electric Fireplaces\" href=\"https:\/\/www.touchstonehomeproducts.com\/collections\/sideline-recessed-electric-fireplaces\"\u003e\u003cstrong\u003eShop the entire Sideline Collection\u003c\/strong\u003e\u003c\/a\u003e. \u003c\/p\u003e\n\u003ch3\u003e\u003c\/h3\u003e\n\u003cul\u003e\u003c\/ul\u003e\n\u003ch4\u003eSpecifications\u003c\/h4\u003e\n\u003ch3\u003eSpecifications\u003c\/h3\u003e\n\u003cul\u003e\n\u003cli\u003e\n\u003cstrong\u003eFrame Color: \u003c\/strong\u003eBlack\u003c\/li\u003e\n\u003cli\u003e\n\u003cstrong\u003eFireplace Dimensions: \u003c\/strong\u003e50 3\/8\" wide x 21 1\/2\" high x 5 1\/2\" deep\u003c\/li\u003e\n\u003cli\u003e\n\u003cstrong\u003eFirebox Dimensions:\u003c\/strong\u003e 46 7\/8\" wide x 20 1\/4\" high x 5 1\/4\" deep\u003c\/li\u003e\n\u003cli\u003e\n\u003cstrong\u003eRough Opening Dimensions:\u003c\/strong\u003e 47 1\/8\" wide x 20 3\/4\" high x 5 3\/4\" deep\u003c\/li\u003e\n\u003cli\u003e\n\u003cstrong\u003eShipping Carton Dimensions: \u003c\/strong\u003e54\" wide x 26\" high x 9\" deep\u003c\/li\u003e\n\u003cli\u003e\n\u003cstrong\u003eFire Dimensions:\u003c\/strong\u003e 45\" wide x 12\" tall\u003c\/li\u003e\n\u003cli\u003e\n\u003cstrong\u003ePart number: \u003c\/strong\u003e80004\u003c\/li\u003e\n\u003cli\u003e\n\u003cstrong\u003eWatts: \u003c\/strong\u003e1,500\u003c\/li\u003e\n\u003cli\u003e\n\u003cstrong\u003eBTU's: \u003c\/strong\u003e5,000\u003c\/li\u003e\n\u003cli\u003e\n\u003cstrong\u003eRoom Coverage: \u003c\/strong\u003e400 ft.\u003c\/li\u003e\n\u003cli\u003e\n\u003cstrong\u003eFireplace Weight: \u003c\/strong\u003e59 pounds\u003c\/li\u003e\n\u003cli\u003e\n\u003cstrong\u003eShipping Weight: \u003c\/strong\u003e64 pounds\u003c\/li\u003e\n\u003cli\u003e\n\u003cstrong\u003eVoltage: \u003c\/strong\u003e120v\u003c\/li\u003e\n\u003cli\u003e\n\u003cstrong\u003eAmperes: \u003c\/strong\u003e11 and up\u003c\/li\u003e\n\u003c\/ul\u003e\n\u003ch3\u003eDimensional Drawing\u003c\/h3\u003e\n\u003cp\u003e\u003cimg alt=\"\" src=\"https:\/\/cdn.shopify.com\/s\/files\/1\/1817\/4257\/files\/80004-Sideline_Dimensions_1024x1024.jpg?v=1578689939\"\u003e\u003c\/p\u003e\n\u003ch3\u003eDocuments\u003c\/h3\u003e\n\u003cul\u003e\n\u003cli\u003e\n\u003ca href=\"http:\/\/services.mediasupply.com\/touchstone\/documents\/manuals\/fireplace\/80004-80011-80013-80014-80015-80025-80027-80028-80029-80032-20200812.pdf\" target=\"_blank\"\u003e \u003c\/a\u003e\u003ca href=\"https:\/\/ftp.touchstonehomeproducts.com\/documents\/manuals\/fireplace\/sidelineseriesfireplacemanual.pdf\" target=\"_blank\" rel=\"noopener noreferrer\"\u003e\u003cstrong\u003e80004 - Sideline\u003cspan\u003e® \u003c\/span\u003e50 Electric Fireplace Owners Manual\u003c\/strong\u003e\u003c\/a\u003e\u003cbr\u003e\u003cstrong\u003e\u003c\/strong\u003e\n\u003c\/li\u003e\n\u003cli\u003e\u003ca href=\"https:\/\/ftp.touchstonehomeproducts.com\/documents\/dimensionaldrawings\/80004-80029-Sideline50Dimensions.jpg\" target=\"_blank\" rel=\"noopener noreferrer\"\u003e\u003cstrong\u003e80004 - Sideline\u003cspan\u003e® \u003c\/span\u003e50 Electric Fireplace Dimensional Drawing\u003c\/strong\u003e\u003c\/a\u003e\u003c\/li\u003e\n\u003cli\u003e\u003cstrong\u003e\u003ca href=\"https:\/\/cdn.shopify.com\/s\/files\/1\/1817\/4257\/files\/80004-Bro.pdf?15524922640287551967\"\u003e80004 - Sideline\u003cspan\u003e® \u003c\/span\u003e50 Electric Fireplace Product Brochure\u003c\/a\u003e\u003c\/strong\u003e\u003c\/li\u003e\n\u003c\/ul\u003e\n\u003ch4\u003eDelivery \u0026amp; Shipping\u003c\/h4\u003e\n\u003ch3\u003eDelivery \u0026amp; Shipping\u003c\/h3\u003e\n\u003cp\u003eTouchstone's Electric Fireplaces are shipped via UPS Ground service. If you would like priority shipping, please call us at 888-978-3531 to request a quote.\u003c\/p\u003e\n\u003cp\u003eThese deliveries are handled the same way as any UPS Ground shipment, so they can be left when you are not home. Touchstone is responsible for the delivery only to the point that the Fireplace is dropped off, so please be aware of any possible issues with a drop off delivery if you are not home, or if the weather is an issue.\u003c\/p\u003e\n\u003cp\u003eTouchstone\u003cspan\u003e™\u003c\/span\u003e sends you an email with your order shipment tracking information, so you can check with the shipping carrier directly to track your shipment.\u003c\/p\u003e\n\u003ch3\u003eShopping in Canada?\u003c\/h3\u003e\n\u003cp\u003e\u003cspan\u003eFor customers shopping in Canada, \u003c\/span\u003e\u003ca href=\"https:\/\/touchstonehomeproducts.myshopify.com\/pages\/shipping-to-canada\"\u003eplease click here\u003c\/a\u003e\u003cspan\u003e for more information about delivery into Canada.\u003c\/span\u003e\u003c\/p\u003e\n\u003ch3\u003eReturn Policy\u003c\/h3\u003e\n\u003cp\u003eFor more information regarding our return policy, \u003ca href=\"https:\/\/www.touchstonehomeproducts.com\/pages\/return-policy\" onclick=\"window.open(this.href, 'mywin', 'left=20,top=20,width=700,height=700,toolbar=0,resizable=1'); return false;\"\u003eplease click here.\u003c\/a\u003e\u003c\/p\u003e\n\u003ch4\u003eWarranty\u003c\/h4\u003e\n\u003ch3\u003eProduct Protection\u003c\/h3\u003e\n\u003cp\u003e\u003cspan class=\"aboutUsOrange\"\u003e\u003cb\u003eINCLUDED IN STANDARD 1-YEAR WARRANTY \u003cem\u003e(INCLUDED WITH FIREPLACE PURCHASE)\u003c\/em\u003e:\u003c\/b\u003e\u003c\/span\u003e\u003c\/p\u003e\n\u003cul\u003e\n\u003cli\u003eReplacement of any non-functioning electronic parts\u003c\/li\u003e\n\u003cli\u003eFree Toll Free tech support (888-978-3531)\u003c\/li\u003e\n\u003c\/ul\u003e\n\u003cp\u003e\u003cspan class=\"aboutUsOrange\"\u003e\u003cb\u003e1-YEAR\u003cspan\u003e \u003c\/span\u003eEXTENDED WARRANTY \u003cem\u003e($69)\u003c\/em\u003e:\u003c\/b\u003e\u003c\/span\u003e\u003c\/p\u003e\n\u003cul\u003e\n\u003cli\u003e1-year extended warranty (continuation of warranty for 1 calendar year AFTER expiration of manufacturers warranty)\u003c\/li\u003e\n\u003cli\u003eReplacement of any non-functioning parts\u003c\/li\u003e\n\u003cli\u003eToll-Free Customer Service \u0026amp; Support (English \u0026amp; Spanish speaking) includes cleaning instructions for stain removal, cleaning products, and\/or assistance from a professional cleaner or a repair technician.\u003c\/li\u003e\n\u003c\/ul\u003e\n\u003cp\u003e\u003cspan class=\"aboutUsOrange\"\u003e\u003cb\u003e2-YEAR EXTENDED WARRANTY\u003cspan\u003e \u003c\/span\u003e\u003cem\u003e($89)\u003c\/em\u003e:\u003c\/b\u003e\u003c\/span\u003e\u003c\/p\u003e\n\u003cul\u003e\n\u003cli\u003e2-year extended warranty (continuation of warranty for 2 calendar years AFTER expiration of manufacturers warranty)\u003c\/li\u003e\n\u003cli\u003eReplacement of any non-functioning parts\u003c\/li\u003e\n\u003cli\u003eToll-Free Customer Service \u0026amp; Support (English \u0026amp; Spanish speaking) includes cleaning instructions for stain removal, cleaning products, and\/or assistance from a professional cleaner or a repair technician.\u003c\/li\u003e\n\u003c\/ul\u003e\n\u003cul\u003e\u003c\/ul\u003e\n\u003ch4\u003eReviews\u003c\/h4\u003e\n\u003cp\u003e \u003c\/p\u003e\n\u003ch4\u003eVideo\u003c\/h4\u003e\n\u003cp\u003eSee the vibrant and natural looking flame display of the Sideline Electric Fireplace up close. The flame colors, intensity and heat easily adjust by remote control. The Sideline series electric fireplaces are easy to place in a wall for a flush mount, recessed installation. The Sideline Electric Fireplace is available in several widths to fit most spaces: 36-inch wide Sideline 36, 40-inch wide Sideline 40, 45-inch wide Sideline 45, 50-inch wide Sideline 50, 60-inch wide Sideline 60, 72-inch wide Sideline 72 and 100-inch wide Sideline 100.\u003c\/p\u003e\n\u003cp style=\"text-align: center;\"\u003e\u003ciframe src=\"https:\/\/www.youtube.com\/embed\/KMQ4PmTeePI?rel=0\u0026amp;showinfo=0\" allowfullscreen=\"\" allow=\"autoplay; encrypted-media\" width=\"560\" height=\"315\" frameborder=\"0\"\u003e\u003c\/iframe\u003e\u003c\/p\u003e\n\u003cp style=\"text-align: center;\"\u003e\u003ciframe src=\"https:\/\/www.youtube.com\/embed\/Wvt-LNSKrCg?rel=0\" allowfullscreen=\"\" allow=\"autoplay; encrypted-media\" width=\"560\" height=\"315\" frameborder=\"0\"\u003e\u003c\/iframe\u003e\u003c\/p\u003e\n\u003cp style=\"text-align: center;\"\u003e\u003ciframe src=\"https:\/\/www.youtube.com\/embed\/hhwoD06uhs8?rel=0\" allowfullscreen=\"\" allow=\"autoplay; encrypted-media\" width=\"560\" height=\"315\" frameborder=\"0\"\u003e\u003c\/iframe\u003e\u003c\/p\u003e\n\u003cp style=\"text-align: center;\"\u003e\u003ciframe src=\"https:\/\/www.youtube.com\/embed\/HgBgRgVa-rI\" allowfullscreen=\"\" allow=\"accelerometer; autoplay; encrypted-media; gyroscope; picture-in-picture\" width=\"560\" height=\"315\" frameborder=\"0\"\u003e\u003c\/iframe\u003e\u003c\/p\u003e","published_at":"2017-06-07T11:17:57-04:00","created_at":"2017-06-07T11:18:01-04:00","vendor":"Touchstone Home Products","type":"Electric Fireplace","tags":["Fireplace Width_50 inches","Flame Display_Variable 3 color","Frame Color_Black","Placement_Wall insert","Placement_Wall mount"],"price":49900,"price_min":49900,"price_max":49900,"available":true,"price_varies":false,"compare_at_price":79900,"compare_at_price_min":79900,"compare_at_price_max":79900,"compare_at_price_varies":false,"variants":[{"id":35397260289,"title":"Default Title","option1":"Default Title","option2":null,"option3":null,"sku":"80004","requires_shipping":true,"taxable":true,"featured_image":null,"available":true,"name":"Sideline 50 80004 50\" Recessed Electric Fireplace","public_title":null,"options":["Default Title"],"price":49900,"weight":34927,"compare_at_price":79900,"inventory_quantity":342,"inventory_management":null,"inventory_policy":"continue","barcode":"631361800048"}],"images":["\/\/cdn.shopify.com\/s\/files\/1\/1817\/4257\/products\/Sideline_50_yellow-orange-blue_crystals_front.jpg?v=1586202541","\/\/cdn.shopify.com\/s\/files\/1\/1817\/4257\/products\/3-color-log_960cf658-a934-4680-b31d-cda27aaa9354.gif?v=1586202541","\/\/cdn.shopify.com\/s\/files\/1\/1817\/4257\/products\/3-color-crystal_397711e2-227c-49d0-a10e-2024738bf95a.gif?v=1586202541","\/\/cdn.shopify.com\/s\/files\/1\/1817\/4257\/products\/Sideline_50_yellow-orange_logs_front.jpg?v=1586202541","\/\/cdn.shopify.com\/s\/files\/1\/1817\/4257\/products\/Sideline_50_yellow-orange-blue_logs_front.jpg?v=1586202541","\/\/cdn.shopify.com\/s\/files\/1\/1817\/4257\/products\/Sideline_50_yellow-orange_crystals_front.jpg?v=1586202541","\/\/cdn.shopify.com\/s\/files\/1\/1817\/4257\/products\/Sideline_50_blue_crystals_front.jpg?v=1586202541","\/\/cdn.shopify.com\/s\/files\/1\/1817\/4257\/products\/Sideline_50_blue_logs_front.jpg?v=1586202541","\/\/cdn.shopify.com\/s\/files\/1\/1817\/4257\/products\/Presentation1.png?v=1586202541","\/\/cdn.shopify.com\/s\/files\/1\/1817\/4257\/products\/Sideline_50_yellow-orange-blue-logs_side.jpg?v=1586202541","\/\/cdn.shopify.com\/s\/files\/1\/1817\/4257\/products\/Sideline_50-yellow-orange-blue-crystals_side.jpg?v=1586202541","\/\/cdn.shopify.com\/s\/files\/1\/1817\/4257\/products\/80004_SIDELINE_bedroom_flame_3_SEP14.jpg?v=1586202541","\/\/cdn.shopify.com\/s\/files\/1\/1817\/4257\/products\/80004_SIDELINE_livingroom_SEP14.jpg?v=1586202541","\/\/cdn.shopify.com\/s\/files\/1\/1817\/4257\/products\/80004_SIDELINE_office_SEP14.jpg?v=1586202541","\/\/cdn.shopify.com\/s\/files\/1\/1817\/4257\/products\/80004-SidelineFireplace-6-crystals.jpg?v=1586202541","\/\/cdn.shopify.com\/s\/files\/1\/1817\/4257\/products\/Siddeline_50_remote_silo.jpg?v=1586202541","\/\/cdn.shopify.com\/s\/files\/1\/1817\/4257\/products\/Sideline_50-yellow-orange-logs_side.jpg?v=1586202541","\/\/cdn.shopify.com\/s\/files\/1\/1817\/4257\/products\/Sideline_50-yellow-orange-crystals_side.jpg?v=1586202541","\/\/cdn.shopify.com\/s\/files\/1\/1817\/4257\/products\/Sideline_50_blue-logs_side.jpg?v=1586202541","\/\/cdn.shopify.com\/s\/files\/1\/1817\/4257\/products\/Sideline_50-blue-crystals_side.jpg?v=1586202541"],"featured_image":"\/\/cdn.shopify.com\/s\/files\/1\/1817\/4257\/products\/Sideline_50_yellow-orange-blue_crystals_front.jpg?v=1586202541","options":["Title"],"media":[{"alt":"Sideline 50 80004 50\" Recessed Electric Fireplace - Touchstone Home Products, Inc.","id":2760437792813,"position":1,"preview_image":{"aspect_ratio":1.499,"height":899,"width":1348,"src":"https:\/\/cdn.shopify.com\/s\/files\/1\/1817\/4257\/products\/Sideline_50_yellow-orange-blue_crystals_front.jpg?v=1570056994"},"aspect_ratio":1.499,"height":899,"media_type":"image","src":"https:\/\/cdn.shopify.com\/s\/files\/1\/1817\/4257\/products\/Sideline_50_yellow-orange-blue_crystals_front.jpg?v=1570056994","width":1348},{"alt":"Sideline 50 80004 50\" Recessed Electric Fireplace - Touchstone Home Products, Inc.","id":2404941332525,"position":2,"preview_image":{"aspect_ratio":1.778,"height":1080,"width":1920,"src":"https:\/\/cdn.shopify.com\/s\/files\/1\/1817\/4257\/products\/3-color-log_960cf658-a934-4680-b31d-cda27aaa9354.gif?v=1569990670"},"aspect_ratio":1.778,"height":1080,"media_type":"image","src":"https:\/\/cdn.shopify.com\/s\/files\/1\/1817\/4257\/products\/3-color-log_960cf658-a934-4680-b31d-cda27aaa9354.gif?v=1569990670","width":1920},{"alt":null,"id":8026072743981,"position":3,"preview_image":{"aspect_ratio":1.333,"height":360,"width":480,"src":"https:\/\/cdn.shopify.com\/s\/files\/1\/1817\/4257\/products\/hqdefault_ab7bf4a9-e7b0-4176-b4d5-bc8448845c3e.jpg?v=1586202481"},"aspect_ratio":1.778,"external_id":"KMQ4PmTeePI","host":"youtube","media_type":"external_video"},{"alt":"Sideline 50 80004 50\" Recessed Electric Fireplace - Touchstone Home Products, Inc.","id":2404941266989,"position":4,"preview_image":{"aspect_ratio":1.778,"height":1080,"width":1920,"src":"https:\/\/cdn.shopify.com\/s\/files\/1\/1817\/4257\/products\/3-color-crystal_397711e2-227c-49d0-a10e-2024738bf95a.gif?v=1569990670"},"aspect_ratio":1.778,"height":1080,"media_type":"image","src":"https:\/\/cdn.shopify.com\/s\/files\/1\/1817\/4257\/products\/3-color-crystal_397711e2-227c-49d0-a10e-2024738bf95a.gif?v=1569990670","width":1920},{"alt":"Sideline 50 80004 50\" Recessed Electric Fireplace - Touchstone Home Products, Inc.","id":2760437727277,"position":5,"preview_image":{"aspect_ratio":1.499,"height":899,"width":1348,"src":"https:\/\/cdn.shopify.com\/s\/files\/1\/1817\/4257\/products\/Sideline_50_yellow-orange_logs_front.jpg?v=1570056994"},"aspect_ratio":1.499,"height":899,"media_type":"image","src":"https:\/\/cdn.shopify.com\/s\/files\/1\/1817\/4257\/products\/Sideline_50_yellow-orange_logs_front.jpg?v=1570056994","width":1348},{"alt":"Sideline 50 80004 50\" Recessed Electric Fireplace - Touchstone Home Products, Inc.","id":2760437858349,"position":6,"preview_image":{"aspect_ratio":1.602,"height":899,"width":1440,"src":"https:\/\/cdn.shopify.com\/s\/files\/1\/1817\/4257\/products\/Sideline_50_yellow-orange-blue_logs_front.jpg?v=1570056994"},"aspect_ratio":1.602,"height":899,"media_type":"image","src":"https:\/\/cdn.shopify.com\/s\/files\/1\/1817\/4257\/products\/Sideline_50_yellow-orange-blue_logs_front.jpg?v=1570056994","width":1440},{"alt":"Sideline 50 80004 50\" Recessed Electric Fireplace - Touchstone Home Products, Inc.","id":2760437661741,"position":7,"preview_image":{"aspect_ratio":1.499,"height":899,"width":1348,"src":"https:\/\/cdn.shopify.com\/s\/files\/1\/1817\/4257\/products\/Sideline_50_yellow-orange_crystals_front.jpg?v=1570056994"},"aspect_ratio":1.499,"height":899,"media_type":"image","src":"https:\/\/cdn.shopify.com\/s\/files\/1\/1817\/4257\/products\/Sideline_50_yellow-orange_crystals_front.jpg?v=1570056994","width":1348},{"alt":"Sideline 50 80004 50\" Recessed Electric Fireplace - Touchstone Home Products, Inc.","id":2760437530669,"position":8,"preview_image":{"aspect_ratio":1.499,"height":899,"width":1348,"src":"https:\/\/cdn.shopify.com\/s\/files\/1\/1817\/4257\/products\/Sideline_50_blue_crystals_front.jpg?v=1570056994"},"aspect_ratio":1.499,"height":899,"media_type":"image","src":"https:\/\/cdn.shopify.com\/s\/files\/1\/1817\/4257\/products\/Sideline_50_blue_crystals_front.jpg?v=1570056994","width":1348},{"alt":"Sideline 50 80004 50\" Recessed Electric Fireplace - Touchstone Home Products, Inc.","id":2760437563437,"position":9,"preview_image":{"aspect_ratio":1.499,"height":899,"width":1348,"src":"https:\/\/cdn.shopify.com\/s\/files\/1\/1817\/4257\/products\/Sideline_50_blue_logs_front.jpg?v=1570056994"},"aspect_ratio":1.499,"height":899,"media_type":"image","src":"https:\/\/cdn.shopify.com\/s\/files\/1\/1817\/4257\/products\/Sideline_50_blue_logs_front.jpg?v=1570056994","width":1348},{"alt":"Sideline 50 80004 50\" Recessed Electric Fireplace - Touchstone Home Products, Inc.","id":2760435597357,"position":10,"preview_image":{"aspect_ratio":1.0,"height":1920,"width":1920,"src":"https:\/\/cdn.shopify.com\/s\/files\/1\/1817\/4257\/products\/Presentation1.png?v=1570056993"},"aspect_ratio":1.0,"height":1920,"media_type":"image","src":"https:\/\/cdn.shopify.com\/s\/files\/1\/1817\/4257\/products\/Presentation1.png?v=1570056993","width":1920},{"alt":"Sideline 50 80004 50\" Recessed Electric Fireplace - Touchstone Home Products, Inc.","id":2760437923885,"position":11,"preview_image":{"aspect_ratio":1.454,"height":899,"width":1307,"src":"https:\/\/cdn.shopify.com\/s\/files\/1\/1817\/4257\/products\/Sideline_50_yellow-orange-blue-logs_side.jpg?v=1570056994"},"aspect_ratio":1.454,"height":899,"media_type":"image","src":"https:\/\/cdn.shopify.com\/s\/files\/1\/1817\/4257\/products\/Sideline_50_yellow-orange-blue-logs_side.jpg?v=1570056994","width":1307},{"alt":"Sideline 50 80004 50\" Recessed Electric Fireplace - Touchstone Home Products, Inc.","id":2760438054957,"position":12,"preview_image":{"aspect_ratio":1.499,"height":899,"width":1348,"src":"https:\/\/cdn.shopify.com\/s\/files\/1\/1817\/4257\/products\/Sideline_50-yellow-orange-blue-crystals_side.jpg?v=1570056994"},"aspect_ratio":1.499,"height":899,"media_type":"image","src":"https:\/\/cdn.shopify.com\/s\/files\/1\/1817\/4257\/products\/Sideline_50-yellow-orange-blue-crystals_side.jpg?v=1570056994","width":1348},{"alt":"Sideline 50 80004 50\" Recessed Electric Fireplace - Touchstone Home Products, Inc.","id":2760437071917,"position":13,"preview_image":{"aspect_ratio":1.499,"height":899,"width":1348,"src":"https:\/\/cdn.shopify.com\/s\/files\/1\/1817\/4257\/products\/80004_SIDELINE_bedroom_flame_3_SEP14.jpg?v=1570056994"},"aspect_ratio":1.499,"height":899,"media_type":"image","src":"https:\/\/cdn.shopify.com\/s\/files\/1\/1817\/4257\/products\/80004_SIDELINE_bedroom_flame_3_SEP14.jpg?v=1570056994","width":1348},{"alt":"Sideline 50 80004 50\" Recessed Electric Fireplace - Touchstone Home Products, Inc.","id":2760437104685,"position":14,"preview_image":{"aspect_ratio":1.5,"height":860,"width":1290,"src":"https:\/\/cdn.shopify.com\/s\/files\/1\/1817\/4257\/products\/80004_SIDELINE_livingroom_SEP14.jpg?v=1570056994"},"aspect_ratio":1.5,"height":860,"media_type":"image","src":"https:\/\/cdn.shopify.com\/s\/files\/1\/1817\/4257\/products\/80004_SIDELINE_livingroom_SEP14.jpg?v=1570056994","width":1290},{"alt":"Sideline 50 80004 50\" Recessed Electric Fireplace - Touchstone Home Products, Inc.","id":2760437137453,"position":15,"preview_image":{"aspect_ratio":1.499,"height":899,"width":1348,"src":"https:\/\/cdn.shopify.com\/s\/files\/1\/1817\/4257\/products\/80004_SIDELINE_office_SEP14.jpg?v=1570056994"},"aspect_ratio":1.499,"height":899,"media_type":"image","src":"https:\/\/cdn.shopify.com\/s\/files\/1\/1817\/4257\/products\/80004_SIDELINE_office_SEP14.jpg?v=1570056994","width":1348},{"alt":"Sideline 50 80004 50\" Recessed Electric Fireplace - Touchstone Home Products, Inc.","id":2760437399597,"position":16,"preview_image":{"aspect_ratio":1.5,"height":860,"width":1290,"src":"https:\/\/cdn.shopify.com\/s\/files\/1\/1817\/4257\/products\/80004-SidelineFireplace-6-crystals.jpg?v=1570056994"},"aspect_ratio":1.5,"height":860,"media_type":"image","src":"https:\/\/cdn.shopify.com\/s\/files\/1\/1817\/4257\/products\/80004-SidelineFireplace-6-crystals.jpg?v=1570056994","width":1290},{"alt":"Sideline 50 80004 50\" Recessed Electric Fireplace - Touchstone Home Products, Inc.","id":2760439627821,"position":17,"preview_image":{"aspect_ratio":0.753,"height":1166,"width":878,"src":"https:\/\/cdn.shopify.com\/s\/files\/1\/1817\/4257\/products\/Siddeline_50_remote_silo.jpg?v=1570056994"},"aspect_ratio":0.753,"height":1166,"media_type":"image","src":"https:\/\/cdn.shopify.com\/s\/files\/1\/1817\/4257\/products\/Siddeline_50_remote_silo.jpg?v=1570056994","width":878},{"alt":"Sideline 50 80004 50\" Recessed Electric Fireplace - Touchstone Home Products, Inc.","id":2760438186029,"position":18,"preview_image":{"aspect_ratio":1.499,"height":899,"width":1348,"src":"https:\/\/cdn.shopify.com\/s\/files\/1\/1817\/4257\/products\/Sideline_50-yellow-orange-logs_side.jpg?v=1570056994"},"aspect_ratio":1.499,"height":899,"media_type":"image","src":"https:\/\/cdn.shopify.com\/s\/files\/1\/1817\/4257\/products\/Sideline_50-yellow-orange-logs_side.jpg?v=1570056994","width":1348},{"alt":"Sideline 50 80004 50\" Recessed Electric Fireplace - Touchstone Home Products, Inc.","id":2760438120493,"position":19,"preview_image":{"aspect_ratio":1.499,"height":899,"width":1348,"src":"https:\/\/cdn.shopify.com\/s\/files\/1\/1817\/4257\/products\/Sideline_50-yellow-orange-crystals_side.jpg?v=1570056994"},"aspect_ratio":1.499,"height":899,"media_type":"image","src":"https:\/\/cdn.shopify.com\/s\/files\/1\/1817\/4257\/products\/Sideline_50-yellow-orange-crystals_side.jpg?v=1570056994","width":1348},{"alt":"Sideline 50 80004 50\" Recessed Electric Fireplace - Touchstone Home Products, Inc.","id":2760437596205,"position":20,"preview_image":{"aspect_ratio":1.454,"height":899,"width":1307,"src":"https:\/\/cdn.shopify.com\/s\/files\/1\/1817\/4257\/products\/Sideline_50_blue-logs_side.jpg?v=1570056994"},"aspect_ratio":1.454,"height":899,"media_type":"image","src":"https:\/\/cdn.shopify.com\/s\/files\/1\/1817\/4257\/products\/Sideline_50_blue-logs_side.jpg?v=1570056994","width":1307},{"alt":"Sideline 50 80004 50\" Recessed Electric Fireplace - Touchstone Home Products, Inc.","id":2760437989421,"position":21,"preview_image":{"aspect_ratio":1.499,"height":899,"width":1348,"src":"https:\/\/cdn.shopify.com\/s\/files\/1\/1817\/4257\/products\/Sideline_50-blue-crystals_side.jpg?v=1570056994"},"aspect_ratio":1.499,"height":899,"media_type":"image","src":"https:\/\/cdn.shopify.com\/s\/files\/1\/1817\/4257\/products\/Sideline_50-blue-crystals_side.jpg?v=1570056994","width":1348}],"content":"\u003ch4\u003eOverview\u003c\/h4\u003e\n\u003ch3\u003eProduct Highlights\u003c\/h3\u003e\n\u003cul\u003e\n\u003cli\u003e\u003cstrong\u003eDesigned with front heating vent so that the unit can be flush mounted into wall\u003c\/strong\u003e\u003c\/li\u003e\n\u003cli\u003e\u003cstrong\u003eIncludes log set and crystal set\u003c\/strong\u003e\u003c\/li\u003e\n\u003cli\u003e\u003cstrong\u003eSlim frame that features a large fireplace viewing area with life-like LED flames that are unrivaled by competitors\u003c\/strong\u003e\u003c\/li\u003e\n\u003cli\u003e\u003cstrong\u003eHeats up to 400 square feet (5,000 BTUs)\u003c\/strong\u003e\u003c\/li\u003e\n\u003cli\u003e\u003cstrong\u003eCan be plugged in or hardwired 120V\u003c\/strong\u003e\u003c\/li\u003e\n\u003cli\u003e\u003cb\u003eMore Sideline sizes available.\u003cspan\u003e \u003c\/span\u003e\u003ca title=\"Sideline Electric Fireplace Collection\" href=\"https:\/\/www.touchstonehomeproducts.com\/collections\/sideline-recessed-electric-fireplaces\"\u003eShop the Sideline Collection\u003c\/a\u003e. \u003c\/b\u003e\u003c\/li\u003e\n\u003c\/ul\u003e\n\u003cul\u003e\u003c\/ul\u003e\n\u003ch3\u003eOverview\u003c\/h3\u003e\n\u003cp\u003eThe Touchstone Sideline\u003cspan\u003e®\u003c\/span\u003e 50 Electric Fireplace was designed to meet the needs of contractors and do-it-yourself installers, who are looking for the beauty of a Touchstone\u003cspan\u003e™\u003c\/span\u003e fireplace mounted flush to a wall. We received so many calls from installers and contractors looking to mount our popular Onyx on their wall. For all its great benefits, the Onyx's top-placed heat element makes flush mounting impossible.\u003c\/p\u003e\n\u003cp\u003eSo here you have the Sideline\u003cspan\u003e®\u003c\/span\u003e 50, a 50\" wide, electric fireplace with the same realistic flames and contemporary black frame of the Onyx, but with a heating element that is placed in front of the frame. The Sideline\u003cspan\u003e®\u003c\/span\u003e 50 delivers the beauty of a fireplace without the fire and smokey smell. The Sideline\u003cspan\u003e®\u003c\/span\u003e 50 has 2 heat settings (high and low) and will heat a room up to 400 sq. ft. Also, the fireplace's flame can be used without the heating feature. The Sideline\u003cspan\u003e®\u003c\/span\u003e 50 is easy to install and comes with simple and understandable instructions.\u003c\/p\u003e\n\u003ch3\u003eRealistic Flame\u003c\/h3\u003e\n\u003cp\u003eThe heart of Touchstone's electric fireplaces is the flame itself. We tell our customers the flame will transcend your expectations, and they will not fail to impress. The flames deliver the same relaxing effect of real flames, without the smell or mess, and they look great in any room of the house. With the 5 settings offered by the Sideline\u003cspan\u003e®\u003c\/span\u003e 50, ranging from a dim glow to a full fire blaze, you have the power to adjust the flame intensity based on your desired mood or lighting of the room with the control features on your unit's remote. \u003ca href=\"http:\/\/www.touchstonehomeproducts.com\/why-buy-an-electric-fireplace.html\"\u003eRead more\u003c\/a\u003e about the benefits of electric fireplaces.\u003c\/p\u003e\n\u003ch3\u003eMultiple flame colors\u003c\/h3\u003e\n\u003cp\u003eTo create the cozy atmosphere of a traditional fireplace, this electronic unit emits authentic-looking flames that emulate a real fire. The flames that Touchstone Home Products\u003cspan\u003e™\u003c\/span\u003e fireplaces create are natural enough to have friends and family think you own a traditional wood burning fireplace.\u003cbr\u003eThis fireplace has three color-changing options (orange, blue, and blue-orange), along with five settings, from a soft ember glow or an intense blaze. The lighting and heating options of this fireplace offer you the ability to customize your atmosphere to your liking. With both its look and performance, Sideline\u003cspan\u003e®\u003c\/span\u003e gives you the total package. Both the heat and flame settings can be operated through a remote control. (Batteries not included)\u003c\/p\u003e\n\u003ch3\u003eNow Comes With Both Faux Log and Glass Crystals -\u003cbr\u003e\u003ci\u003eExclusive to All Touchstone Sideline Series Fireplaces\u003c\/i\u003e\n\u003c\/h3\u003e\n\u003cp\u003eAll Sideline\u003cspan\u003e®\u003c\/span\u003e Series Fireplaces now come with \u003cstrong\u003eboth\u003c\/strong\u003e glass crystals and a faux log set. For a contemporary feel, install the glass crystals in your Sideline\u003cspan\u003e®\u003c\/span\u003e Series Fireplace. For a more traditional look, install the faux log set in your Sideline\u003cspan\u003e®\u003c\/span\u003e Series Fireplace. The Sideline\u003cspan\u003e®\u003c\/span\u003e Series Fireplace ships with both options, so you can choose the look that is right for you.\u003c\/p\u003e\n\u003ch3\u003eYes, it does heat your room\u003c\/h3\u003e\n\u003cp\u003eWhat makes the Sideline\u003cspan\u003e®\u003c\/span\u003e 50 unique is its heating capabilities. It allows you to recess your electric fireplace into the wall while also providing heat through the vent in the front of the unit. The Sideline\u003cspan\u003e®\u003c\/span\u003e 50 offers two heat settings which quickly add heat to a room up to 400 sq. ft. Please note the heater isn't designed to be the primary heat source in your room or home. It's designed to warm up a cool evening, or bring the temperature of a room up a few degrees. The visual appeal and heat emitted by your electric fireplace place in addition to your home's primary heating source will provide your room with a cozy and calming aura. Your electric fireplace's heat settings can be controlled using the remote or the controls on the front of the unit, and you also have the option of controlling the heat by setting up the Sideline\u003cspan\u003e®\u003c\/span\u003e 50's built-in heat timer.\u003c\/p\u003e\n\u003ch3\u003eMounting and Use\u003c\/h3\u003e\n\u003cp\u003e\u003cspan\u003eThe versatile Sideline® 50 electric fireplace offers two installation options. Although it is essentially designed for insertion in your wall, it can also be mounted on your wall. Instructions for mounting and install come with the fireplace, and we recommend you follow the simple instructions provided. We recommend placing your Sideline® 50 at least 20" below your ceiling or 12" below your mounted flat screen TV because of its heating feature.\u003c\/span\u003e\u003c\/p\u003e\n\u003cp\u003eFor more information regarding installation of the Sideline\u003cspan\u003e®\u003c\/span\u003e Electric Fireplace, \u003ca href=\"https:\/\/youtu.be\/-_V43s4-ANM\"\u003eclick here to watch the video\u003c\/a\u003e.\u003c\/p\u003e\n\u003ch3\u003eProduct Features\u003c\/h3\u003e\n\u003cul\u003e\n\u003cli\u003e2 heat settings (high and low)\u003c\/li\u003e\n\u003cli\u003eDesigned for recessed mounting in wall\u003c\/li\u003e\n\u003cli\u003eRemote control for heat and flame setting (batteries not included)\u003c\/li\u003e\n\u003cli\u003eDual mode operates with or without heat for only flame effect\u003c\/li\u003e\n\u003cli\u003eBuilt-in timer mode for shut off in 30 minutes to 7.5 hours.\u003c\/li\u003e\n\u003cli\u003eIf mounting under a wall mounted flat panel TV, mount fireplace at least 12 inches below the bottom of the TV.\u003c\/li\u003e\n\u003c\/ul\u003e\n\u003ch3\u003e\u003c\/h3\u003e\n\u003ch3\u003eSideline® Electric Fireplace Collection\u003c\/h3\u003e\n\u003cp\u003eThe Sideline product line comes in a variety of widths to fit just about any space. You may also like:\u003c\/p\u003e\n\u003cp\u003e\u003ca title=\"Sideline 36\" href=\"https:\/\/www.touchstonehomeproducts.com\/collections\/sideline-recessed-electric-fireplaces\/products\/the-sideline-36-touchstones-36-inch-recessed-electric-fireplace-with-heat-in-black?variant=35397366081\"\u003e36-inch Sideline 36\u003c\/a\u003e\u003c\/p\u003e\n\u003cp\u003e\u003ca title=\"Sideline 40\" href=\"https:\/\/www.touchstonehomeproducts.com\/collections\/sideline-recessed-electric-fireplaces\/products\/sideline40-80027-40-recessed-electric-fireplace?variant=36824516481\"\u003e40-inch Sideline 40\u003c\/a\u003e\u003c\/p\u003e\n\u003cp\u003e\u003ca title=\"Sideline 45\" href=\"https:\/\/www.touchstonehomeproducts.com\/collections\/sideline-recessed-electric-fireplaces\/products\/sideline45-80025-45-recessed-electric-fireplace?variant=37600846529\"\u003e45-inch Sideline 45\u003c\/a\u003e\u003c\/p\u003e\n\u003cp\u003e\u003ca title=\"Sideline 60\" href=\"https:\/\/www.touchstonehomeproducts.com\/collections\/sideline-recessed-electric-fireplaces\/products\/the-sideline-60-touchstones-60-inch-recessed-electric-fireplace-with-heat-in-black?variant=35397351489\"\u003e60-inch Sideline 60\u003c\/a\u003e\u003c\/p\u003e\n\u003cp\u003e\u003ca title=\"Sideline 72\" href=\"https:\/\/www.touchstonehomeproducts.com\/collections\/sideline-recessed-electric-fireplaces\/products\/the-sideline-72-touchstones-72-inch-recessed-electric-fireplace-with-heat-in-black?variant=35397368769\"\u003e72-inch Sideline 72\u003c\/a\u003e\u003c\/p\u003e\n\u003cp\u003e\u003ca title=\"Sideline 100\" href=\"https:\/\/www.touchstonehomeproducts.com\/collections\/sideline-recessed-electric-fireplaces\/products\/sideline-100-80032-100-recessed-electric-fireplace?variant=501296136193\"\u003e100-inch Sideline 100\u003c\/a\u003e\u003c\/p\u003e\n\u003cp\u003e\u003ca title=\"Sideline Electric Fireplaces\" href=\"https:\/\/www.touchstonehomeproducts.com\/collections\/sideline-recessed-electric-fireplaces\"\u003e\u003cstrong\u003eShop the entire Sideline Collection\u003c\/strong\u003e\u003c\/a\u003e. \u003c\/p\u003e\n\u003ch3\u003e\u003c\/h3\u003e\n\u003cul\u003e\u003c\/ul\u003e\n\u003ch4\u003eSpecifications\u003c\/h4\u003e\n\u003ch3\u003eSpecifications\u003c\/h3\u003e\n\u003cul\u003e\n\u003cli\u003e\n\u003cstrong\u003eFrame Color: \u003c\/strong\u003eBlack\u003c\/li\u003e\n\u003cli\u003e\n\u003cstrong\u003eFireplace Dimensions: \u003c\/strong\u003e50 3\/8\" wide x 21 1\/2\" high x 5 1\/2\" deep\u003c\/li\u003e\n\u003cli\u003e\n\u003cstrong\u003eFirebox Dimensions:\u003c\/strong\u003e 46 7\/8\" wide x 20 1\/4\" high x 5 1\/4\" deep\u003c\/li\u003e\n\u003cli\u003e\n\u003cstrong\u003eRough Opening Dimensions:\u003c\/strong\u003e 47 1\/8\" wide x 20 3\/4\" high x 5 3\/4\" deep\u003c\/li\u003e\n\u003cli\u003e\n\u003cstrong\u003eShipping Carton Dimensions: \u003c\/strong\u003e54\" wide x 26\" high x 9\" deep\u003c\/li\u003e\n\u003cli\u003e\n\u003cstrong\u003eFire Dimensions:\u003c\/strong\u003e 45\" wide x 12\" tall\u003c\/li\u003e\n\u003cli\u003e\n\u003cstrong\u003ePart number: \u003c\/strong\u003e80004\u003c\/li\u003e\n\u003cli\u003e\n\u003cstrong\u003eWatts: \u003c\/strong\u003e1,500\u003c\/li\u003e\n\u003cli\u003e\n\u003cstrong\u003eBTU's: \u003c\/strong\u003e5,000\u003c\/li\u003e\n\u003cli\u003e\n\u003cstrong\u003eRoom Coverage: \u003c\/strong\u003e400 ft.\u003c\/li\u003e\n\u003cli\u003e\n\u003cstrong\u003eFireplace Weight: \u003c\/strong\u003e59 pounds\u003c\/li\u003e\n\u003cli\u003e\n\u003cstrong\u003eShipping Weight: \u003c\/strong\u003e64 pounds\u003c\/li\u003e\n\u003cli\u003e\n\u003cstrong\u003eVoltage: \u003c\/strong\u003e120v\u003c\/li\u003e\n\u003cli\u003e\n\u003cstrong\u003eAmperes: \u003c\/strong\u003e11 and up\u003c\/li\u003e\n\u003c\/ul\u003e\n\u003ch3\u003eDimensional Drawing\u003c\/h3\u003e\n\u003cp\u003e\u003cimg alt=\"\" src=\"https:\/\/cdn.shopify.com\/s\/files\/1\/1817\/4257\/files\/80004-Sideline_Dimensions_1024x1024.jpg?v=1578689939\"\u003e\u003c\/p\u003e\n\u003ch3\u003eDocuments\u003c\/h3\u003e\n\u003cul\u003e\n\u003cli\u003e\n\u003ca href=\"http:\/\/services.mediasupply.com\/touchstone\/documents\/manuals\/fireplace\/80004-80011-80013-80014-80015-80025-80027-80028-80029-80032-20200812.pdf\" target=\"_blank\"\u003e \u003c\/a\u003e\u003ca href=\"https:\/\/ftp.touchstonehomeproducts.com\/documents\/manuals\/fireplace\/sidelineseriesfireplacemanual.pdf\" target=\"_blank\" rel=\"noopener noreferrer\"\u003e\u003cstrong\u003e80004 - Sideline\u003cspan\u003e® \u003c\/span\u003e50 Electric Fireplace Owners Manual\u003c\/strong\u003e\u003c\/a\u003e\u003cbr\u003e\u003cstrong\u003e\u003c\/strong\u003e\n\u003c\/li\u003e\n\u003cli\u003e\u003ca href=\"https:\/\/ftp.touchstonehomeproducts.com\/documents\/dimensionaldrawings\/80004-80029-Sideline50Dimensions.jpg\" target=\"_blank\" rel=\"noopener noreferrer\"\u003e\u003cstrong\u003e80004 - Sideline\u003cspan\u003e® \u003c\/span\u003e50 Electric Fireplace Dimensional Drawing\u003c\/strong\u003e\u003c\/a\u003e\u003c\/li\u003e\n\u003cli\u003e\u003cstrong\u003e\u003ca href=\"https:\/\/cdn.shopify.com\/s\/files\/1\/1817\/4257\/files\/80004-Bro.pdf?15524922640287551967\"\u003e80004 - Sideline\u003cspan\u003e® \u003c\/span\u003e50 Electric Fireplace Product Brochure\u003c\/a\u003e\u003c\/strong\u003e\u003c\/li\u003e\n\u003c\/ul\u003e\n\u003ch4\u003eDelivery \u0026amp; Shipping\u003c\/h4\u003e\n\u003ch3\u003eDelivery \u0026amp; Shipping\u003c\/h3\u003e\n\u003cp\u003eTouchstone's Electric Fireplaces are shipped via UPS Ground service. If you would like priority shipping, please call us at 888-978-3531 to request a quote.\u003c\/p\u003e\n\u003cp\u003eThese deliveries are handled the same way as any UPS Ground shipment, so they can be left when you are not home. Touchstone is responsible for the delivery only to the point that the Fireplace is dropped off, so please be aware of any possible issues with a drop off delivery if you are not home, or if the weather is an issue.\u003c\/p\u003e\n\u003cp\u003eTouchstone\u003cspan\u003e™\u003c\/span\u003e sends you an email with your order shipment tracking information, so you can check with the shipping carrier directly to track your shipment.\u003c\/p\u003e\n\u003ch3\u003eShopping in Canada?\u003c\/h3\u003e\n\u003cp\u003e\u003cspan\u003eFor customers shopping in Canada, \u003c\/span\u003e\u003ca href=\"https:\/\/touchstonehomeproducts.myshopify.com\/pages\/shipping-to-canada\"\u003eplease click here\u003c\/a\u003e\u003cspan\u003e for more information about delivery into Canada.\u003c\/span\u003e\u003c\/p\u003e\n\u003ch3\u003eReturn Policy\u003c\/h3\u003e\n\u003cp\u003eFor more information regarding our return policy, \u003ca href=\"https:\/\/www.touchstonehomeproducts.com\/pages\/return-policy\" onclick=\"window.open(this.href, 'mywin', 'left=20,top=20,width=700,height=700,toolbar=0,resizable=1'); return false;\"\u003eplease click here.\u003c\/a\u003e\u003c\/p\u003e\n\u003ch4\u003eWarranty\u003c\/h4\u003e\n\u003ch3\u003eProduct Protection\u003c\/h3\u003e\n\u003cp\u003e\u003cspan class=\"aboutUsOrange\"\u003e\u003cb\u003eINCLUDED IN STANDARD 1-YEAR WARRANTY \u003cem\u003e(INCLUDED WITH FIREPLACE PURCHASE)\u003c\/em\u003e:\u003c\/b\u003e\u003c\/span\u003e\u003c\/p\u003e\n\u003cul\u003e\n\u003cli\u003eReplacement of any non-functioning electronic parts\u003c\/li\u003e\n\u003cli\u003eFree Toll Free tech support (888-978-3531)\u003c\/li\u003e\n\u003c\/ul\u003e\n\u003cp\u003e\u003cspan class=\"aboutUsOrange\"\u003e\u003cb\u003e1-YEAR\u003cspan\u003e \u003c\/span\u003eEXTENDED WARRANTY \u003cem\u003e($69)\u003c\/em\u003e:\u003c\/b\u003e\u003c\/span\u003e\u003c\/p\u003e\n\u003cul\u003e\n\u003cli\u003e1-year extended warranty (continuation of warranty for 1 calendar year AFTER expiration of manufacturers warranty)\u003c\/li\u003e\n\u003cli\u003eReplacement of any non-functioning parts\u003c\/li\u003e\n\u003cli\u003eToll-Free Customer Service \u0026amp; Support (English \u0026amp; Spanish speaking) includes cleaning instructions for stain removal, cleaning products, and\/or assistance from a professional cleaner or a repair technician.\u003c\/li\u003e\n\u003c\/ul\u003e\n\u003cp\u003e\u003cspan class=\"aboutUsOrange\"\u003e\u003cb\u003e2-YEAR EXTENDED WARRANTY\u003cspan\u003e \u003c\/span\u003e\u003cem\u003e($89)\u003c\/em\u003e:\u003c\/b\u003e\u003c\/span\u003e\u003c\/p\u003e\n\u003cul\u003e\n\u003cli\u003e2-year extended warranty (continuation of warranty for 2 calendar years AFTER expiration of manufacturers warranty)\u003c\/li\u003e\n\u003cli\u003eReplacement of any non-functioning parts\u003c\/li\u003e\n\u003cli\u003eToll-Free Customer Service \u0026amp; Support (English \u0026amp; Spanish speaking) includes cleaning instructions for stain removal, cleaning products, and\/or assistance from a professional cleaner or a repair technician.\u003c\/li\u003e\n\u003c\/ul\u003e\n\u003cul\u003e\u003c\/ul\u003e\n\u003ch4\u003eReviews\u003c\/h4\u003e\n\u003cp\u003e \u003c\/p\u003e\n\u003ch4\u003eVideo\u003c\/h4\u003e\n\u003cp\u003eSee the vibrant and natural looking flame display of the Sideline Electric Fireplace up close. The flame colors, intensity and heat easily adjust by remote control. The Sideline series electric fireplaces are easy to place in a wall for a flush mount, recessed installation. The Sideline Electric Fireplace is available in several widths to fit most spaces: 36-inch wide Sideline 36, 40-inch wide Sideline 40, 45-inch wide Sideline 45, 50-inch wide Sideline 50, 60-inch wide Sideline 60, 72-inch wide Sideline 72 and 100-inch wide Sideline 100.\u003c\/p\u003e\n\u003cp style=\"text-align: center;\"\u003e\u003ciframe src=\"https:\/\/www.youtube.com\/embed\/KMQ4PmTeePI?rel=0\u0026amp;showinfo=0\" allowfullscreen=\"\" allow=\"autoplay; encrypted-media\" width=\"560\" height=\"315\" frameborder=\"0\"\u003e\u003c\/iframe\u003e\u003c\/p\u003e\n\u003cp style=\"text-align: center;\"\u003e\u003ciframe src=\"https:\/\/www.youtube.com\/embed\/Wvt-LNSKrCg?rel=0\" allowfullscreen=\"\" allow=\"autoplay; encrypted-media\" width=\"560\" height=\"315\" frameborder=\"0\"\u003e\u003c\/iframe\u003e\u003c\/p\u003e\n\u003cp style=\"text-align: center;\"\u003e\u003ciframe src=\"https:\/\/www.youtube.com\/embed\/hhwoD06uhs8?rel=0\" allowfullscreen=\"\" allow=\"autoplay; encrypted-media\" width=\"560\" height=\"315\" frameborder=\"0\"\u003e\u003c\/iframe\u003e\u003c\/p\u003e\n\u003cp style=\"text-align: center;\"\u003e\u003ciframe src=\"https:\/\/www.youtube.com\/embed\/HgBgRgVa-rI\" allowfullscreen=\"\" allow=\"accelerometer; autoplay; encrypted-media; gyroscope; picture-in-picture\" width=\"560\" height=\"315\" frameborder=\"0\"\u003e\u003c\/iframe\u003e\u003c\/p\u003e"}
Sideline 50 80004 50" Recessed Electric Fireplace
Sideline 50 80004 50" Recessed Electric Fireplace
Product Highlights
Designed with front heating vent so that the unit can be flush mounted into wall
Includes log set and crystal set
Slim frame that features a large fireplace viewing area with life-like LED flames that are unrivaled by competitors
Heats up to 400 square feet (5,000 BTUs)
Can be plugged in or hardwired 120V
More Sideline sizes available.

 

Shop the Sideline Collection. 
Overview
The Touchstone Sideline® 50 Electric Fireplace was designed to meet the needs of contractors and do-it-yourself installers, who are looking for the beauty of a Touchstone™ fireplace mounted flush to a wall. We received so many calls from installers and contractors looking to mount our popular Onyx on their wall. For all its great benefits, the Onyx's top-placed heat element makes flush mounting impossible.
So here you have the Sideline® 50, a 50" wide, electric fireplace with the same realistic flames and contemporary black frame of the Onyx, but with a heating element that is placed in front of the frame. The Sideline® 50 delivers the beauty of a fireplace without the fire and smokey smell. The Sideline® 50 has 2 heat settings (high and low) and will heat a room up to 400 sq. ft. Also, the fireplace's flame can be used without the heating feature. The Sideline® 50 is easy to install and comes with simple and understandable instructions.
Realistic Flame
The heart of Touchstone's electric fireplaces is the flame itself. We tell our customers the flame will transcend your expectations, and they will not fail to impress. The flames deliver the same relaxing effect of real flames, without the smell or mess, and they look great in any room of the house. With the 5 settings offered by the Sideline® 50, ranging from a dim glow to a full fire blaze, you have the power to adjust the flame intensity based on your desired mood or lighting of the room with the control features on your unit's remote. Read more about the benefits of electric fireplaces.
Multiple flame colors
To create the cozy atmosphere of a traditional fireplace, this electronic unit emits authentic-looking flames that emulate a real fire. The flames that Touchstone Home Products™ fireplaces create are natural enough to have friends and family think you own a traditional wood burning fireplace.
This fireplace has three color-changing options (orange, blue, and blue-orange), along with five settings, from a soft ember glow or an intense blaze. The lighting and heating options of this fireplace offer you the ability to customize your atmosphere to your liking. With both its look and performance, Sideline® gives you the total package. Both the heat and flame settings can be operated through a remote control. (Batteries not included)
Now Comes With Both Faux Log and Glass Crystals -
Exclusive to All Touchstone Sideline Series Fireplaces
All Sideline® Series Fireplaces now come with both glass crystals and a faux log set. For a contemporary feel, install the glass crystals in your Sideline® Series Fireplace. For a more traditional look, install the faux log set in your Sideline® Series Fireplace. The Sideline® Series Fireplace ships with both options, so you can choose the look that is right for you.
Yes, it does heat your room
What makes the Sideline® 50 unique is its heating capabilities. It allows you to recess your electric fireplace into the wall while also providing heat through the vent in the front of the unit. The Sideline® 50 offers two heat settings which quickly add heat to a room up to 400 sq. ft. Please note the heater isn't designed to be the primary heat source in your room or home. It's designed to warm up a cool evening, or bring the temperature of a room up a few degrees. The visual appeal and heat emitted by your electric fireplace place in addition to your home's primary heating source will provide your room with a cozy and calming aura. Your electric fireplace's heat settings can be controlled using the remote or the controls on the front of the unit, and you also have the option of controlling the heat by setting up the Sideline® 50's built-in heat timer.
Mounting and Use
The versatile Sideline® 50 electric fireplace offers two installation options. Although it is essentially designed for insertion in your wall, it can also be mounted on your wall. Instructions for mounting and install come with the fireplace, and we recommend you follow the simple instructions provided. We recommend placing your Sideline® 50 at least 20" below your ceiling or 12" below your mounted flat screen TV because of its heating feature.
For more information regarding installation of the Sideline® Electric Fireplace, click here to watch the video.
Product Features
2 heat settings (high and low)
Designed for recessed mounting in wall
Remote control for heat and flame setting (batteries not included)
Dual mode operates with or without heat for only flame effect
Built-in timer mode for shut off in 30 minutes to 7.5 hours.
If mounting under a wall mounted flat panel TV, mount fireplace at least 12 inches below the bottom of the TV.
Sideline® Electric Fireplace Collection
The Sideline product line comes in a variety of widths to fit just about any space. You may also like:
Shop the entire Sideline Collection. 
Specifications
Frame Color: Black
Fireplace Dimensions: 50 3/8" wide x 21 1/2" high x 5 1/2" deep
Firebox Dimensions: 46 7/8" wide x 20 1/4" high x 5 1/4" deep
Rough Opening Dimensions: 47 1/8" wide x 20 3/4" high x 5 3/4" deep
Shipping Carton Dimensions: 54" wide x 26" high x 9" deep
Fire Dimensions: 45" wide x 12" tall
Part number: 80004
Watts: 1,500
BTU's: 5,000
Room Coverage: 400 ft.
Fireplace Weight: 59 pounds
Shipping Weight: 64 pounds
Voltage: 120v
Amperes: 11 and up
Dimensional Drawing
Documents
Delivery & Shipping
Touchstone's Electric Fireplaces are shipped via UPS Ground service. If you would like priority shipping, please call us at 888-978-3531 to request a quote.
These deliveries are handled the same way as any UPS Ground shipment, so they can be left when you are not home. Touchstone is responsible for the delivery only to the point that the Fireplace is dropped off, so please be aware of any possible issues with a drop off delivery if you are not home, or if the weather is an issue.
Touchstone™ sends you an email with your order shipment tracking information, so you can check with the shipping carrier directly to track your shipment.
Shopping in Canada?
For customers shopping in Canada, please click here for more information about delivery into Canada.
Return Policy
For more information regarding our return policy, please click here.
Product Protection
INCLUDED IN STANDARD 1-YEAR WARRANTY (INCLUDED WITH FIREPLACE PURCHASE):
Replacement of any non-functioning electronic parts
Free Toll Free tech support (888-978-3531)
1-YEAR EXTENDED WARRANTY ($69):
1-year extended warranty (continuation of warranty for 1 calendar year AFTER expiration of manufacturers warranty)
Replacement of any non-functioning parts
Toll-Free Customer Service & Support (English & Spanish speaking) includes cleaning instructions for stain removal, cleaning products, and/or assistance from a professional cleaner or a repair technician.
2-YEAR EXTENDED WARRANTY ($89):
2-year extended warranty (continuation of warranty for 2 calendar years AFTER expiration of manufacturers warranty)
Replacement of any non-functioning parts
Toll-Free Customer Service & Support (English & Spanish speaking) includes cleaning instructions for stain removal, cleaning products, and/or assistance from a professional cleaner or a repair technician.
See the vibrant and natural looking flame display of the Sideline Electric Fireplace up close. The flame colors, intensity and heat easily adjust by remote control. The Sideline series electric fireplaces are easy to place in a wall for a flush mount, recessed installation. The Sideline Electric Fireplace is available in several widths to fit most spaces: 36-inch wide Sideline 36, 40-inch wide Sideline 40, 45-inch wide Sideline 45, 50-inch wide Sideline 50, 60-inch wide Sideline 60, 72-inch wide Sideline 72 and 100-inch wide Sideline 100.
Customer Reviews
Write a Review
Ask a Question
12/06/2017
Christopher T.
With a flip of the switch, I have warmth and ambiance
I just wanted to let you know we finally got the electric fireplace installed this week in my new yoga studio. It looks fantastic and was so easy to install. I have attached a picture for you. Feel free to share or use as you choose. And, on top of everything else being so simple, with the flip of a switch I have warmth and ambiance in my studio. Just beautiful!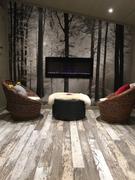 Great purchase, Sideline 50 80004
Purchased the Onyx Sideline 50 80004 for major remodel. Turned our non-working fireplace into a visually nice and modern look. It was too expensive to clear our chimney and make it up to code to use for a real flame fireplace. We could have gone gas, but decided to go with electric instead. We just wanted a sleek modern look and this certainly did that. Also, our livingroom runs warm all the time, one of the warmest rooms in the house, so we never need heat on in that room. Electrical was the best option to have the flames and no heat output. Only dislike is the faux log, doesn't look like the advertisement photos and doesn't look real. We went with the crystals and it really gives it a modern look. Highly recommend and is at a very good price for what you get.
11/29/2020
Cesar A.
United States
11/20/2020
Enrique B.
United States
Sideline 50" - great fireplace!
This is the second fireplace I've purchased from Touchstone and have nothing but great things to say -- great product, great customer service, quick delivery, easy installation. Originally bought the 36" sideline for a one bedroom condo back in 2018 and was very happy with the product. I moved to a larger condo in 2019 and bought the 50" and had it installed to fit inside a new built-in bookcase/mantel I designed for my new condo. Fireplace comes with three color options and firewood and glass cubes. I installed the firewood for a more natural look. Fire looks very realistic and the heat functions really well. It's been a year and the fireplace functions perfectly. Highly recommend the product and company!